Richard Manwaring (Producer); Hindsight is a wonderful faculty and while it helps with appreciating wrong or correct decisions, the remembering of the infectious excitement of soaking up new ideas or stumbling across a new technique feels a little out of reach.
I was the Chief Engineer at The Manor Studios owned by Virgin Records. I had been engineering at The Manor and worked with The Human League manager Bob Last when he produced The Mekons in 1979. We seemed to get on well and I was asked to go Sheffield to work with the band. The first Human League album (recorded at The Townhouse) had been released and having their own studio was a logical step. They found a room above a disused vet's practice in their home town of Sheffield, put in an 8 track recorder with a Trident desk and gave it the great name of Monumental Pictures. (Liverpool's Hambi and The Dance persuaded Virgin to support building a studio to record their first album.) I initially met Phil, Martyn, Ian and Adrian in Sheffield during 18th and 19th March 1980. Sessions started 22nd to 30th March, 12th to 14th April and the album was mastered by Denis Blackham at Tape One on 15th April.
It was a new experience for me working and getting to know the Sheffield band and the self deprecating humour. One example is the name they chose for their recording set up. Monumental Pictures is a great name for a studio. There's a nod to Hollywood with the image of an enormous and unstoppable production powerhouse. In fact it was two rooms on the first floor of an empty building which housed on the ground floor, a disused veterinary practice complete with metal trolleys where I assumed the unfortunate animals were examined or operated on. You didn't wish to look too closely at what else had been left behind. The stairs at the back of the ground floor led up to the first floor and the studio. The ground floor electricity had been cut off so in the evenings we staggered through the dark to get to the studio.
All producers are different. I'm an engineer and I'm not a musician – I just liked music. Therefore I tried to work with bands and musicians to make music that I wanted to listen to. My style has been to throw up questions and ideas regarding the approach and philosophy of making a particular album. I would suggest arrangements as to verse/chorus/bridge etc. and the importance of dynamics within a song. As I was engineering, I was able to suggest ideas as to sounds and balance. I was as active in the production as I could be without actually playing an instrument! The synths were mainly Roland and Korg. I never worried too much about what instrument played what – as long as it was right for the part – in tune! At that time in the 80's I always turned to the Eventide Harmoniser to process a sound. The small delay and pitch change made things sound fuller, fatter. Always used with discretion, of course!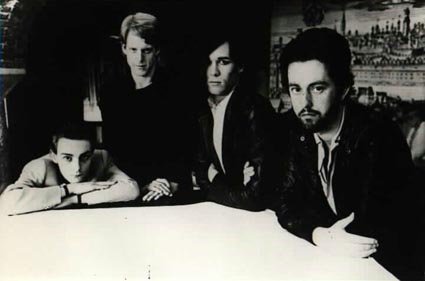 Listening back to the Travelogue album in 2020 I am blown away by how much was achieved with so little. The set up was a Trident Fleximix console audio desk with an Ampex 440 8 track recorder which at times only had 6 useable tracks, and Revox 2 track recorders. We must have had some outboard gear like a compressor, a delay unit and a reverb but I can't remember the specifics. Malcolm Toft had designed a great sounding board and I think that the band at the early stages were creating sounds they liked rather than worrying about the technicalities. Maybe no EQ or maybe lots! I also mixed the album through the same board and the monitoring was Tannoy speakers. Nothing was particularly set up correctly as in a commercial studio – it just sounded good.
Frankly, I view it today with awe that we were allowed to make music (and have success!) with such a radical approach. There's a real mixture of ideas – from the humour of Black Hit Of Space, Crow and A Baby to the introspection of Dreams Of Leaving, My impression is of no compromise – it really represented all of the band at that particular moment.
It certainly was exciting (times), everyone was aware that it was very ground breaking stuff. New areas of music aided and abetted by new ways of making music. As you can hear, a pretty stunning combination. Technology is a double edged sword – working with a computer is easier to make music but the downside is that you can be lazy by pasting in parts that on tape would usually be played. I'm sure that playing as much as you can on the song pays great dividends to the overall feel and atmosphere. I enjoyed all the sessions with the band and they had a common focus on what they wanted to achieve. Little did we know what success lay in store for the Travelogue album let alone the future for the band themselves.
John Leckie (Producer); I was well aware of The Human League before I worked with them and had Fast single Being Boiled and EP Dignity of Labour (because of the cover...Yuri Gargarin fan!) Was honoured to be asked by Virgin to work with them because they were very cool at that time. I was pretty active as the engineer and keeping the session rolling and getting tracks finished to high standard. The sessions were in their own studio (Devonshire Lane?) in Sheffield and it was a semi derelict ex-veterinary surgery (!) It was very cold and I stayed in a cheap bed and breakfast and met Phil at bus stop every morning to get to the studio. Phil had the hair and peacock feather ear ring! It was strange cos at that time in late morning the bus was full of old lady shoppers so he was quite a sight but forever the gentleman giving up his seat for ladies etc.!
It was more fun and chancey in those days and more out there and creative. The studio was sparse and we recorded on 8 track 1 inch Ampex tape machine of which I remember only 7 tracks were working. Bit of bounce tracking done for vocals etc. Can't remember on what desk but we mixed tracks there. The basic tracks were already programmed by Ian and this was on Roland System 100 with step sequencer (no midi) and I think just Roland Juno for string sounds (played by Martyn). The Roland System100 was great for sounds and easy to operate and gave tough sound. There was lot of tuning and trimming to be done before it was put to tape and I recorded all vocals. I think whole session with me took 7-10 days? I worked on Being Boiled (plus Rock'n'Roll/Nightclubbing and Marianne for the Holiday 80 EP).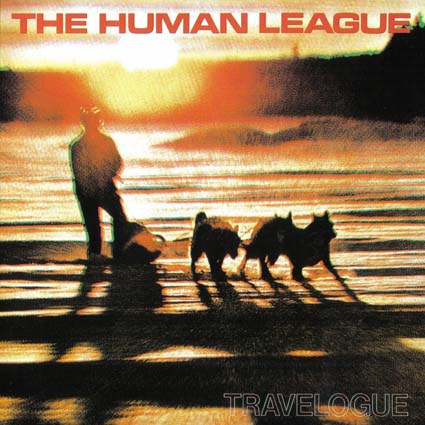 Martyn Ware (Band member); No point in re-recording (the album). The (2003) remasters sounds fantastic. It was much more fun in those days. And much more creative I think as all the sounds had to be created from scratch and there was a 'blank canvas'. We never stockpiled ideas, we just moved on. I'm very, very happy and proud of that creative part of my life.
Denis Blackham (Mastering Engineer); I don't think I knew of them at all before the first session. I don't know why they chose me either, but I must have cut something they liked and came to me that way. They used to come down from Sheffield on the train, and we always had an afternoon session. I remember getting on well with them all and always pulled out the stops to get their tracks sounding as good as I could. My way of working is to do whatever I feel is right, and the producer or artist make their comments and we take it from there. I've never been one for just sitting there waiting for their input. They aren't used to working in the mastering room and it's sound. They don't have the technical knowledge of what will sometimes work best, so it's down to me to get it how I think will work, plus I try to understand what they are trying to get with the track.
The band recorded at their own studio in Sheffield, recording their mixes on quarter inch analogue tape, often chopping lots of different mixes together to make the final mix. Now this is fine if the mixes are the same level an sound, but theirs weren't, so I had to write lots of notes for level and sound changes to even everything up. I had a dual eq system on my mastering desk, so I could set up one level and sound pattern on one system, and a different one on the other. When I cut the master lacquer, I could switch from one to the other as the edit passed the playback head on the tape machine. Some mixes had loads of edits, so I would be furiously changing the settings every few seconds until I reached the end of the song. The adrenalin would be pumping on those sessions, because one mistake meant you had wasted a lacquer disc and had to start again; even worse, when you were cutting an album side and had this mayhem going on for 20 minutes!
I am a fan of their music, they had a vision that worked and still sounds fresh today. They were talented people making great music with minimal equipment, which is often a bonus, because it makes you work harder to get what you want. I love the early stuff, just fond memories of working with the band.
Simon Best (Manager); I remember talking to the band members at the time and getting the the impression that several of the songs on Travelogue e.g. Black Hit Of Space were very much "Martin's and Ian's and less of a team effort than they had been before these sessions - maybe the first signs that the first incarnation of the band had been taken as far as they could at that point?
Richard X (later on collaborator); I was obsessed with Travelogue (and Reproduction) as a kid hearing them for the first time many years after they were actually made. I loved the songwriting and how out of place it was with what the world was offering at the time, and the sound of the music and electronics, the futurism and how it all seemed like an alluring and complete world that I entered just by listening.
Dean Honer (later on producer of Credo); A great collection of off the wall songs and quite raw and dirty sounding.
David Beevers (later on in house engineer); (Favourite album) because I consider it as equal to Kraftwerk's Man Machine in its groundbreaking use of technology.
Russell Dennett (later on band member); Favourite album, just remind me of first meeting the band and the lyrics are great.
Kerry Hopwood (Later on producer); Still get's put on, turned up and makes me happy
Paul Freegaard (Later on remixer ); (Favourite album) because it's Modern Art.
Jon Fugler (Later on remixer); It was life changing, this was a period when a new breed of post punk artists and labels were beginning to release some truly memorable and divers material. The Human League were there when it mattered.
Nikos Bitzenis (Later on remixer); I've been a Human League fan since Reproduction, but with Traveloue I became a devotee. My favourite album because it is the perfect combination of of pop, electro and experimental. Phil's voice is so haunting. I was very excited with all this electro/punk of Human League.
Andrew Meecham (Later on remixer); It reminds me of the passion of wanting to own a synth. This album made me lie in bed at night with headphones on until the early hours of the morning when I should have been asleep. It made me late and tired for school. Reminds me of my youth.

Maurizio Bonito (Later on remixer); Despite of the blippy / weird sound palette, it has this dada/nonsense graphical suggestion. It is the kind of thing that make my brain cells twist. I love to try to rationalize things that are not "rationalizable". Like the time paradoxes from Star Trek or the strangeness of David Lynch´s films.
TRACK BY TRACK GUIDE
THE BLACK HIT OF SPACE
Richard Manwaring; I think 'The Black Hit Of Space' may have been more complete than other songs, so certainly the percussion parts had been programmed. The great sounds were produced by Roland System 100, Roland JP4, SH3A and Korg 700S. There wasn't much studio outboard gear - probably a spring reverb and an Eventide Harmonizer. But they were used as much as possible!
Martyn Ware (Band member); That and Almost Medieval are my 2 favourites from that period. I remember getting so excited at the prospect of being able to create a fuzz effect by massively overloading the input channel on our new desk (we'd never had a proper desk before). ; I think Phil's lyrics are creative at an absolute peak. Still amongst the best Science Fiction lyrics ever IMHO! And very funny in the case of The Black Hit Of Space.
Simon Best; (My) favourite song of the original band, in part because I introduced the League to George Clinton and Funkadelic/Parliment - Martin particularly loved "Rump Of Steel" from Motor Booty Affair - a link you can hear when you listen to both side by side.
Richard X; The Black Hit Of Space (as favourite song) for it's sheer out-of-this-world-ness at the time I first heard it.
Dean Honer; It's a great record to DJ with and it's very noisy and very bonkers. My kids like it too.
ONLY AFTER DARK
Richard Manwaring; Only After Dark shows how well a purely electronics band can cover a guitar based song. The Mick Ronson song is a good choice as it suits the instrumentation and to a greater extent, Phil's voice. The style is quite particular and Phil, along with the backing vocals, gets the urgency across. One arrangement feature is the high frequency 'tinkling' that is present throughout. My ear tends to filter it out after a bit so you only notice it now and then. However, if the sound was cut out, the absence would definitely be noticed. Martyn recalls being their fans of Mick Ronson and The Adverts and (the cover of) Only After Dark was probably his idea.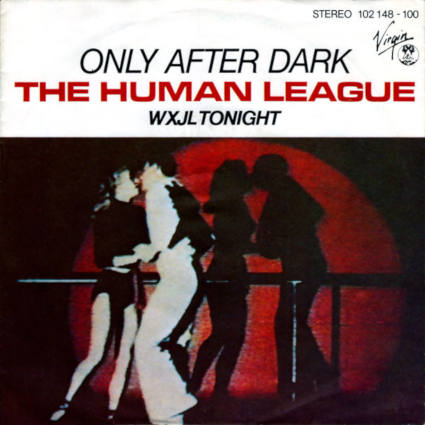 LIFE KILLS
Richard Manwaring; Life Kills shows the effectiveness of album sequencing. It is perfectly set up by Only After Dark. I don't think any other track on the album would have benefitted quite as much. The shuffle rhythm is quite difficult with early sequencers but this song grooves at a great pace. This track also stands out due to the brass sound and arrangement. The vocal harmonies provide colour and the main dynamic of breaking down to the bass and percussion in the second and third choruses allows the coda to have big boost to the end. I also like the fuzz sustaining at the finish, emphasising the lyric.
DREAMS OF LEAVING
Richard Manwaring; Phil did a great vocal with a wonderful melody in the chorus. The first section has the implication of refugees, then the extraordinary middle section that seems to come from nowhere and then the final section with the lyrics telling of the paranoia of trying to fit in. Great atmosphere with a very human side from Phil.
TOYOTA CITY
Richard Manwaring; It was a great idea having two instrumentals on the album. One familiar with Gordon's Gin harking back to a previous era and the original Toyota City which described a feeder town for the factory workers. The track was recorded at the band's previous Devonshire Lane studios and was virtually finished as I remember. I like the repeating figure with the thumb-piano like sound providing the robotic angle and the other instruments giving a slight dreamy, other worldly at times malevolent atmosphere.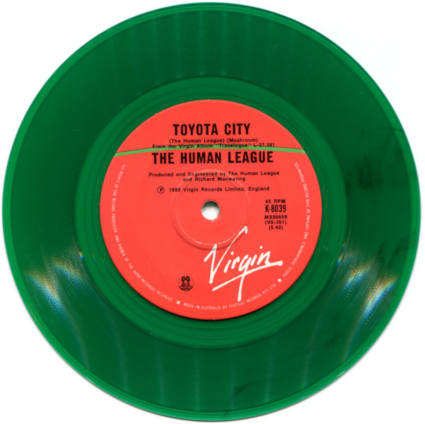 CROW AND A BABY
Richard Manwaring; I think the arty side comes a little to the fore in Crow And A Baby! Great words and idea from Phil. Dive into the concept! Technically, we went into Eventide Harmoniser overdrive with the 'fathers' in Bridge 1 being pitched up with feedback and 'carrion' and 'corruption' in Bridge 2 being pitched down. All held together with the very catchy chorus – 'With one wing on the town....' The key change is meant as a shock and gives the required lift at that point of the song. The breaking down of the synths towards the fade out fragments the sound as if it is all out of control and about to break down or even self destruct.
THE TOUCHABLES
Philip Oakey (bandmember); On Travelogue, Martyn did a song called "The Touchables", and it had a structure that was clearly divided into chorus, verse, middle eight, that sort of thing… but we were that rudimentary that we hardly ever did that. The very basics of doing what was supposed to be our job hadn't come through to me
Richard Manwaring; 'Guilt, compassion or Achilles heel' is the line I really like in The Touchables. The three sections of the song flow together supporting the whole of the lyric. One of the qualities of a good song for me is – after the song is finished, is there a melody that you can take away with you? I'm always looking for a memorable hook and the synths following the chorus line really make it stick. The tinkles introduce the bridge and then the chorus are very effective in signalling a new section. The song could have faded on the last chorus but the last hanging chord leave wanting more.
GORDONS GIN
Richard Manwaring; I think the band had been working on the songs that became the Travelogue album over a period of time. Certainly Gordon's Gin was nearly complete. I remember Martyn and possibly Ian being the main driving force behind Gordon's Gin. I think they loved the cinematic and nostalgic aspects of the melody. The tinkly sparkly sounds particularly leant to the sounds produced by the synthesizers of the time.
BEING BOILED
Richard Manwaring; They had (already) finished Being Boiled. I've always had the greatest respect for John Leckie both personally and as a producer. In fact before he started producing, he engineered a single at Abbey Road No.2 I was working on for EMI. Being Boiled sounded fantastic, a great song with quirky sounds and an overall fullness that John liked so much. The issue of re-doing the song never came up.
John Leckie; We were just upgrading the old version on instruction from Virgin A&R. The electronic percussion is filtered white noise and commonly used at time by Kraftwerk of course, and Telex (Belgian band from late 70s). All sequenced synths were programed by Ian and I was really involved in overall production and mixing so I cant really take credit for the percussion sounds. I think it's a historic part of the time. I've still only got the 7 inch vinyl gatefold pack. Never heard it on CD. Proud to have been part of it.
Bob Last (Manager); I immediately knew I wanted to release it (on Fast Product), I didn't really know a lot about Kraftwerk etc but I liked it:
-because the big fat base line felt like a great industrial interpretation of Parliament/Funkadelic/George Clinton which I had listened to loads before punk,
-because it so obviously wasn't punk,
-because the lyrics to Being Boiled on the one hand made no sense but on the other seemed to contain some elusive truth,
-because it sounded to me like a hit record
-because I like the idea of releasing something that just arrived out of the blue in the post, what a great world that would be!
-because to me the electronic soundscape had a kind of grain or texture to it I responded to, like a lot of people I loved Polaroid film at that time and it seemed to me to have the audio equivalent of the magic of Polaroid.
It always felt like a hit to me. I and my team really did believe that what we were doing mattered, we were totally committed to it and liked and disliked things with a passion so in a way it is not totally surprising that it still resonates. Looking back what is surprising is that there is a history at all, I'm surprised the world is still here but as it is I'm not surprised people still listen to it.
Simon Best; Even before listening to the demo of Being Boiled, we knew that the League were something unique – the cassette came with fully developed artwork with much of the imagery that we subsequently used on the cover already in place and a one-page Philip K Dick like introductory cover story about the League. There's no question it was a ground-breaker. The music spoke for itself – home-grown electronic music with intriguing lyrics from a band with clear ambitions to be a pop group. We couldn't resist the challenge and Bob upped our overdraft with the bank so we could press up a bigger than usual first batch. John Peel loved it and as I recall, we eventually sold ca. 80,000 copies which was a huge number for an indie label.
Jarrod Gosling (later on producer); I loved 'Being Boiled' when it was released as a single. I preferred it to the contemporary singles from 'Dare'.
Rob Sinclair (later on stage designer); (My favourite song), it's all about those bass frequencies.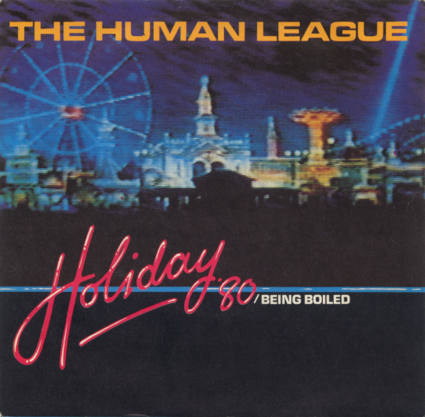 WXJL TONIGHT
Richard Manwaring; WXJL Tonight really gets the imagination going. There's something mysterious and other worldly about all late night radio. Who is out there, who is listening? I always think of it in terms of other radio songs like Donald Fagen's The Nightfly and Harry Chapin's WOLD. However in a twist the song is not celebrating the DJ but exposing the fatal flaw of being superfluous to the music. Another memorable chorus with the backing vocals on the end choruses reminding me of a station's ident.