First a little background. The Human League family tree states you were earlier in bands like Boxing Clever and Mirror Cracked, so can you tell us a bit more about how you became a musician?
How I became a musician??? Ehh, well I started piano lessons at the age of 6, or so I've been told. Did The Royal School Of Music classical piano exams until, unfortunately, my piano teacher died. I think she was in her 90s though. There was only one other piano teacher in the area where I lived in Dorset that was recommended, so I didn't bother with lessons after that. I think I was 14 by then, and had reached Grade 7 out of the 8 Grades, so just started 'composing' my own little pieces!!! Then my best friend, who played guitar, suggested getting a 'band' together with a drummer from our school and a bass player he knew. So, that was my first 'band' at the age of 15!!
Then came school exams, so the band thing was put on hold really until I got to Sheffield where I was at university. I met a guy there who was a bass player, he met a drummer and guitarist from Sheffield who knew his girlfriend, and we later got a singer and formed a band called Land's End.
Then I joined a Sheffield band called The Mirror Crack'd (named after the Agatha Christie novel), as I was working in a music store with the drummer from that band. The band had been going for probably 4 or 5 years before I joined. They wanted to change direction, using more sequencing and synths. After about 8 months we changed name to Boxing Clever, signed a management agreement with a guy who owned The Warehouse in Leeds (a trendy venue at the time) and he introduced us to an A and R guy from MCA. We recorded quite a few songs for them, at a Sheffield studio, which he really liked... but things never 'took off' with a deal from MCA.
If I remember rightly, about 6 months later Philip and Ian (Burden) asked me to audition for The League! The rest, as they say, is history!!
Was it always your passion to play electronic music?
I don't think I ever made the decision to only want to play electronic music..... I think I just found myself playing keyboards for one of the most iconic bands in that particular genre!!! Not that I'm complaining!!!
You joined the band for the Crash Tour in 1986. How did it come about that they recruited you?
Ok, bit of a long story. After university I was asked, by the drummer from the Mirror Crack'd, who worked in the only respectable music store in Sheffield, if I would consider talking to the manager about working in the keyboard department as the current guy was to be promoted to assistant manager. I went along, spoke to them and started about a week later!!
Philip and Ian (Burden) were frequent visitors to the store, so after a few months of working there I had built up a bit of a relationship with the two of them. Predictably we talked about synthesizers and drum machines and The League's Synclavier. Philip then invited me up to the studio in his house to see the Synclavier...and tea and biscuits!! Ian was there as they were working on songs that would eventually end up on the Crash album. We all got on really well, naturally the conversation revolved around synthesisers and electronic music..... what would you have expected?!!
Then they went to Minneapolis to record Crash, with Jimmy and Terry. When they eventually returned, Philip and Ian came into the store one day and asked me if I could possibly recommend any keyboard players, that were customers or that I knew, that would be prepared to audition for a world tour with the band. They asked me if I could make a list of players that I thought might be suitable. Then towards the end of that same day, Ian rang me at the store and said that they wanted to ask me if I would like to audition, but felt bad that they would be 'poaching' me!!! I of course said that I'd love to audition, and told them not to worry about their concerns, regarding the store.
A few days later, I went back up to Philip's house for the very informal 'audition', having been asked to learn about 3 or 4 songs to play through....one of them being Human. I think they must have given me a cassette of the songs, as the album hadn't actually been released at that stage. I played them in front of Philip and Ian, and they asked me there and then if I would like to join for the Crash tour. I think I probably said I would like to, straight away.....not really a difficult decision to make!!! The rest is, as they say, history!! The tour started in the UK, then we went to the USA for about 2 months I think and eventually went on to the Far East.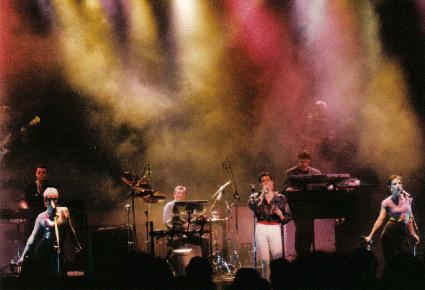 How well were you into their back catalogue when you joined? Would you label yourself a fan or more a causal listener?
I had Dare, obviously, Love And Dancing and Hysteria. I didn't actually own copies of Reproduction and Travelogue but I was very aware of their importance. I remember my friend playing me Hard Times for the first time on the day it was released and thinking.... OMG this is ABSOLUTELY FANTASTIC!!! Of course Love Action (I Believe In Love), the other 'A' side, was equally great.
I remember buying Love And Dancing and playing it continuously, much to the annoyance of my parents. I just couldn't believe how brilliant Martin's remixes sounded. Sonically they just sounded better than anything else out there at the time. So, yes I would say I was a big fan!!
The Crash Tour was the bands first tour in 4 years and took you to both the UK, Asia and America. What are your memories of that tour?
It was a fantastic experience!!! I mean, doing what you do, being flown all over the world, including to countries and regions that perhaps you would never really choose as a holiday destination, staying in five star hotels......and being paid handsomely to do it!!!! I remember waking up one morning in Nagoya, Japan and thinking.....now THIS really is pay back for all those hours and hours, of often tedious, piano practice as a boy !!!

I also remember the band's first set of shows, in the UK, for the Crash tour, which consisted of either 4 or maybe even 5 little 'try out different sets' shows in an infamous venue in Sheffield called The Limit, sadly demolished many years ago. You can perhaps appreciate that to fans of the band, the idea of being able to see them play LIVE in such a small venue, sort of 'up close and personal', meant that the 'buzz' about those little shows was amazing!!
I'm not sure what the capacity of The Limit was but, there were DEFINITELY at least TWICE as many people in there than there should have been!! During one of those shows, the P.A. started tipping forwards on my side and a disaster was only prevented by a couple of the club's door security guys pushing up against the stack, for the rest of the show !!!

The funny thing was, Philip, Joanne and Susan were apparently really quite anxious and nervous about going out and touring on that larger scale, but never let on with me!! I'm glad they didn't, because I thought that they were super confident and laid-back, and if I had known what they were thinking, I think I would have been VERY panicky!!!!
You then played an important part in the making of the Romantic? album, co-writing 6 of the 10 tracks. How do you look back on the recording of that album as you worked with 5 different producers on your songs?
Ehhhh, 5 producers???!!! Is that correct??? Just had a look, and yes, I guess it was!!! I sort of remember the Mark and Robert production period, and when Bob K came up and perhaps even when Spike was behind the desk.....but totally forgot about Timm !!!! Although we started Mr Moon and Mr Sun with Martin, we didn't get to finish it with him. The 2 Jo Callis songs were recorded back down at Genetic, but I didn't attend. You have to remember that it was over 20 years ago, and my memory of those sessions are a bit… fuzzy!!
Mark and Robert were heavily into loops and beats, as in A Doorway. That was exciting, as we hadn't explored that aspect to the extent that they had. They arrived with lots of vinyl and spent hours listening for exposed loops!! I don't even really remember the time scale of the different production sessions. I am guessing that they were spread over several months, as The League have a reputation for taking their time when it comes to recording!!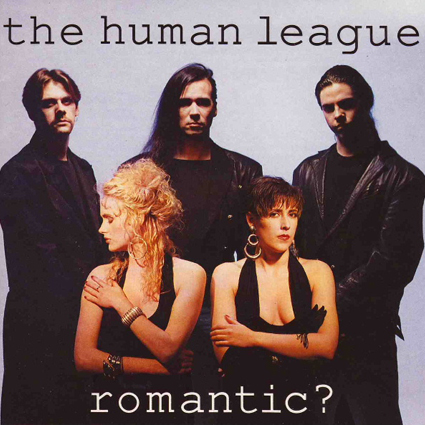 Stand out track for me was Rebound, so any memories of how this cracker developed from demo to finished version?
I think most of the songs went under some amount of reworking, in regards to sounds and arrangements, except Rebound and The Stars Are Going Out. I wrote the majority of those 2 songs in the lounge of The Human League's studio, whilst vocals were being recorded in the live room. I had the Linn 9000, which would dump it's sequencer memory at crucial moments, and 2 or 3 synths MIDI'ed together. I think that actually aided the writing, as I didn't give myself access to a huge number of options!!
Philip would appear every few hours and say "Oh, that sounds interesting", so I just kept going!! I'm almost sure that the sounds on Rebound were the actual sounds from the original synths I used. I guess that 'verse sections' and 'chorus sections' were lengthened, to fit Philip's lyrics, but that was all.......apart from Spike making it sound nice...oh, and Mr Orbit adding a DRUM PART!!!
Another stand out track of yours was A Doorway which sounded quite unique for a Human League song as it's so percussion driven. Must have been good fun recording the percussion part, I'm picturing a sort of Human League carnival atmosphere in the studio!?
Ooooooohhhhhh deeeeeeeear !!!! The 'percussion part' was a loop that Robert Gordon found on some vinyl that he brought along!!! So, no, not a Human League carnival atmosphere AT ALL!!! Sorry to disappoint!!! It did sound good though, especially as it was truncated.
A Doorway was mostly a Russell and Philip track.....and now I can't remember what I contributed ?!?! Maybe the bass line and some of the chord work?!?! You'll have to ask Mr Dennett, who has a scary memory for those type of things!!
William Orbit mixed a version of the album, which has almost mythological status among fans, since no one has heard it in full. And according to various sources it sounded awesome. So have you heard it?
Of course I have heard it, you nutcase!!! But if you are asking me NOW what I thought of it......I would have to say, I can't remember!! I do remember when it arrived, we listened to it in The League's control room at a VERY high volume, that sonically it sounded impressive.
I also remember the track 'Rebound' coming back with a drum part on it... he hadn't realised that we intended it to be free of any drums or percussion??? I thought that was a bit presumptuous, but they stayed, so perhaps I was wrong??!! Meeting him some time later, I forgot to ask him about it!!

I think the track 'The Stars Are Going Out' sounded 'beefier' after it had been 'Orbitized'!! You have to remember, that at that time Mr Orbit was the 'Flavour Of The Year', especially with Virgin. I think they were getting him to do mixes and remixes of 90% of their artist roster!!!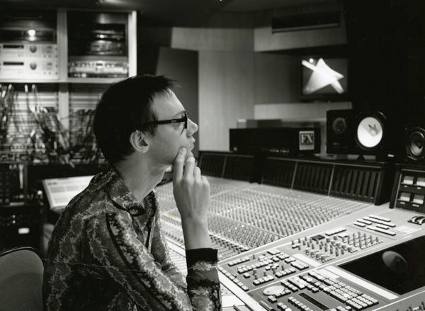 Any idea why the album wasn't supported by a tour as you must have been itching to play some of the songs you wrote live?

I 'think' Virgin wanted the band to crack on with the next album, as it had been 4 years between Crash and Romantic. It would have been good to play some of those songs live at that point, but things were different in those days!! We have played some of them live since, though.
Next album was Octopus in '95, must have been satisfying to experience your first Top 20 hit as you co-wrote One Man In My Heart which went to number 13 in the charts?
Yes, it was great having a Top 20 single. Radio 1 and 2 gave it a lot of plays as well as the commercial stations. Even though you have listened to the track a million times whilst it's being recorded and then again after it has been mixed and finally mastered, it was always exciting hearing it on the radio when driving in the car. The djs were very complimentary about it..... thank God.
I must admit though, hearing it being played in the background on East Enders and Coronation Street (the 2 biggest soap operas on British TV ) was the biggest buzz!! Sad, but true!!
As I understand producer Ian Stanley was heavily involved in the process and technically it was a very complex album to make?
Yes, Ian produced it. He was serious about his synths, so the sounds were a top priority!! He had some very nice pieces himself, including a Prophet 10 and a Yamaha CS80!! He also bought a Roland System 700 whilst he was working on the album in The League's studio. He also brought along a device that consisted of 6 metal rods in a case, like guitar strings, that triggered MIDI notes. This allowed you to strum MIDI chords, giving the effect of strumming guitar chords!! It worked well!!
Ian did have David synching everything to everything else, whether it was timecode DAT machines, CV + Gate synths or MIDI devices!! Then he would want to record it!!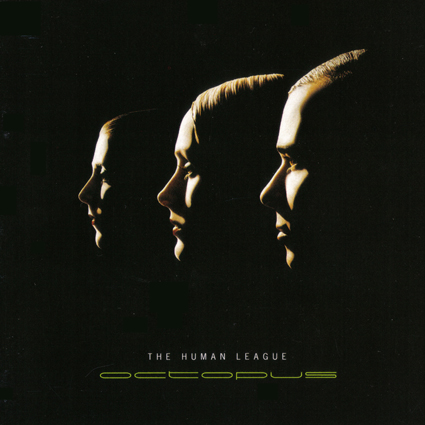 On the album Secrets in 2001 you delivered a large part of the album writing or co-writing 11 of the 16 tracks and it was hailed as the best Human League album since Dare by fans and press. It took a long time to make, so how did you experience the recording process?
It did take a long, long time and a selection of different producers to create it, including the mighty Ross Cullum, who was/is one of my heroes ! TOY were the most influential 'production force' on Secrets, though. They came in and stripped the tracks down to their bare components and then worked their magic in reconstructing them, both in terms of structure, sometimes, and instrumentation.
I think 90% of what you hear in the finished versions, are down to their talented sound creation. They spent a lot of time, in The League's studio, on sound design, with each of them working on different components of each track.
As you can hear in the finished mixes, they created some spectacularly fantastic original sounds, which totally transformed what myself and Philip had originally recorded ! I really can't say enough about how talented each of the three of them were on that album ! Truly inspirational!
You wrote most of the awesome instrumental interludes, but were they always meant to be without vocals?
The instrumental pieces were TOY's idea. Myself and Philip drove down to their studio, near Virginia Waters, if I remember correctly, and they let us listen to the instrumental ideas they had recorded, based on some of the songs. They sounded so good, Philip decided that it would be a good idea to use them between some of the album tracks. I contributed a couple of them, with Dave (Beevers) recording them, at The League's studio in Sheffield.
So, yes, the interludes were written and intended to be just instrumentals. A little 'secret'.....some of the names of the interludes were 'working titles', named by myself and Philip, for the finished songs, they were inspired by !!!
Personal favourite from the album is Reflections, especially love the instrumental ending. Any recollection of creating this cool piece of electronic music?
I love Reflections too!!
The song was written by Philip and Steve Fellowes, who was the singer in a Sheffield band called The Comsat Angels, and an old friend of Philip's, and of the band. As I remember, although I could be wrong, Steve and Philip worked on the music and the lyrics together. Steve would come to the studio and the two of them would lock themselves away for a few hours at a time. I think Pete Davis, a programmer, did a fair bit of sound remodelling. I'm sure that some of his sound programming made it to the final arrangement of the recorded version.
I also think the instrumental ending was maybe a section that was created during the 'Ross Cullum years' (sarcasm), a period where Philip disappeared to Ross's Chelsea studio for what seemed like months. Ross and Pete worked on some of the songs, that each ended up as 8 or 9 minute epics. Some of the song sections, including loops that they created themselves, were fantastic....but sadly didn't make it to the finished mixes. I remember listening to some of the stuff, when I travelled down to Chelsea, and thinking, this is mad, but absolutely brilliant!!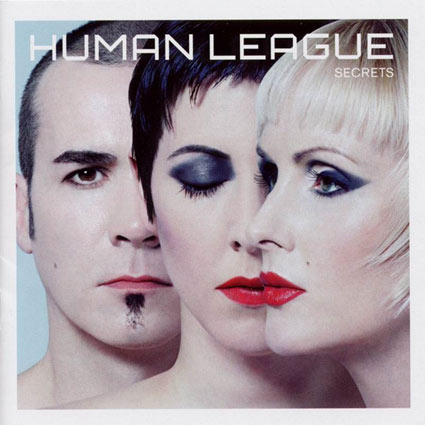 It took ten years to deliver the next album with Credo in 2011. This time you weren't involved in the song writing but must have followed the recordings closely. Any favourite track from the album?
My favourites are Egomaniac, Never Let Me Go, Sky and Electric Shock.
Any of the new songs that was particularly fun to rehearse for the Credo Tour that followed to promote the album?
I loved playing Egomaniac on the tour, but I think we only played it in Europe?? We opened the set with Sky on the UK part of the tour, and I think it worked really well!!
Which songs you've contributed to are you most satisfied with the end result?
I can't really say that any of the songs, that have ended up on albums have been unsatisfactory. Sometimes some parts might not have made it to a final mix, that perhaps I might have thought should have been there..... but there is no point in being precious about those things!! I think All I Ever Wanted would have to be one that I think worked out well, and some of the remixes sounded immense on a big club system!!
The band has really worked hard the last 15 years to become a fantastic live act. So do you prefer the stage to the studio?
Oh live every time!!! There's nothing like the buzz of an audience, that are up for a good show!! We all enjoy playing live. I get asked all the time if I ever get bored of playing the hits, that we couldn't possibly leave out of a set. I don't, because songs such as Love Action (I Believe In Love), for example, with 'the cat' at the beginning, as soon as people hear that, they get excited....and it's great hearing that response EVERY time!!
The studio is ok, but after a few weeks it can become a tiny bit monotonous. Then of course when the singing starts.....there isn't an awful lot for the likes of me, to do. Apart from giving the vocalists some moral support, of course!!
You go about it in a quiet and unassuming way, but you are one of the individuals that has contributed most to the bands catalogue. Besides Human League Mark 1 you're the songwriter Oakey has co-written most tracks with. So how does your songwriting partnership work?
Oooo, that could be a long question to answer.
Well, the music comes first, but Philip has potential song titles and lyric ideas floating about all of the time. It's usually a case of either working on the music together, or me presenting something to him and him thinking that he could do something with it?!?! Sometimes whilst I was playing him something for the first time, he would come up with a vocal melody there and then. Then it would mean scrambling around quickly to find a machine to record his vocal idea on, before it was forgotten!!
The music would always then be arranged around the length of verse/chorus/bridge lyrics. After the basic song has been structured, other parts, vocal or instrumental, might get added. Then even at the stage of vocal recording, backing vocals and additional vocal parts could well be added. Sometimes these late additions might completely change the songs for the better!!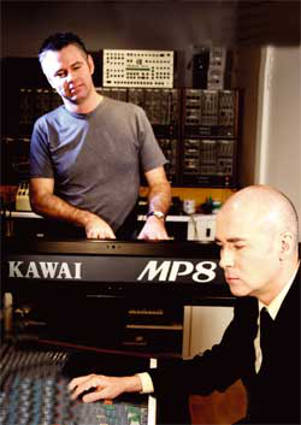 You have many hundred concerts under your belt, so any favourite country, city or venue when touring?
Wow, another hard one to answer!!
I suppose playing in the Far East is always exciting. In 2011 we ended up playing in Japan, Hong Kong, Singapore and The Philippines. Those places are fantastic to visit and play in. Tokyo has to be one of my most favourite cities. Everything about it I find fascinating!! South America is also a favourite of mine. We have played shows in Brazil, Sao Paulo is an eye opener!!! The squalor of the ghettos, that you see en route from the airport, is particularly disturbing considering the apparent wealth of the inner city. Australia is always exciting. I think that Perth was as fascinating as Sydney!!
Favourite venues.....Royal Albert Hall, because of the history of the bands and artists that have 'trodden those boards'!! It really is quite a spectacular place. The Roxy and Radio City in New York are also prestigious venues. Playing at Radio City and seeing the photographs in the dressing rooms of who has played there, was pretty daunting!! Of course The Hollywood Bowl, that we have played a few times now, with a capacity of over 17,000, has a fantastic atmosphere!! There must be others but I can't bring them to mind!
It looks so easy when you play the keyboards, but is there a song that can cause you problems?
I think the only really challenging part of any one song, that we don't play very often, are the solo sections in 'Filling Up With Heaven', from Octopus. It's a GREAT song, and perhaps my favourite from that album.
The problem with those solos are that Philip wrote them by playing parts of it in, and then editing them with the software editor, moving notes around, which is responsible for it sounding so different!! Some of which are beyond an octave and four semitones, my maximum span with any one hand. So playing it with adjacent notes all over the keyboard, which a keyboard player playing it 'as a solo', wouldn't necessarily do, means having to divide each solo between two hands, but often alternating hands every other note!! It requires concentration..... and can quite easily get cocked up, royally!! Not that I can recall ever having done live!!
Can you tell us a bit about your live keyboard set up?
The live keyboard set up has been simplified over the years. Once upon a time Nick, myself and David accessed the rack of synth modules as well as the Roland JV90s we used to control them with. So from song to song I could be playing a Novation SuperNova with split points on the JV90 triggering another module in the rack and Nick could be playing a bass sound from the EMU Orbit and David could be accessing the Roland JV1080 Rack, for Mac parts.
Now, we have our own stations. Nick and myself use Roland Fantom G6s....which sounds great!! The Roland AX7 remote controllers, which are seated above the Fantoms on our keyboard stands, are routed to the Fantoms. They don't have any sound source of their own. We use remote MIDI on stage, so that we can move around and not worry about tripping anyone up with trailing MIDI leads!!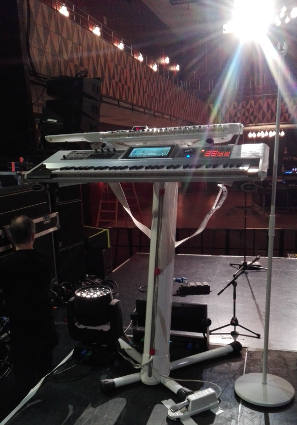 Favourite song to perform live?

Favourite song to perform.... Open Your Heart. I just love that song, it is verging on genius!! Also Mirror Man and I loved starting the set, in 2012, with 'Sky'!!
Any wishes that so far hasn't made it to the setlist?

I wish we could again play songs such as 'Love On The Run' and 'Money' from Crash. I really enjoyed playing them in 1986, great parts and chords, but they seem to get overlooked nowadays?? Shame, great songs.
You experimented with a couple of remixes from the Secrets album together with engineer David Beevers, but sadly they never got finished for a release. Could the next Human League single release see a much anticipated "Sutton & Beevers Mix"?
I think I have a copy of a complete remix project of some of the Secrets' songs that David named 'Crystal'!! It was really good, he worked really hard on it!! The results were fantastic!! But he won't be letting anyone hear them soon!!
I doubt whether that scenario will ever happen again though?!?!
Favourite Human League album?
What?!?!?! I don't think I can really say that I have a 'favourite' League album. I did, and still do, think that Crash was under appreciated. There are some great songs on there, apart from obviously Human, such as Money, Party and Love On The Run. I suppose that album will always have a happy place in my memory, as it was at the time when I joined the band for the tour in 1986/7.
Favourite song?
I've mentioned here in this interview, that Open Your Heart is one of my favourites, along with Filling Up With Heaven. Why, because they are just great pop songs that are a bit different in their approach and their arrangements.
Favourite remix of a Human League song?
Favourite remix??? Maybe the Fascination Improvisation mix or the extended remix of Hard Times on Love And Dancing.
The Human League has a vast collection of vintage synths and drum machines. Which ones are the most fun to fiddle with the knobs?
Most fun.....well, the modular stuff is good fun! The Roland System 100M is great, but can't remember the last time that I myself had a 'twiddle and a patching'. The Doepfer system in the studio is pretty impressive, but I tend to favour synths like the Oberheim SEM, the Oberheim OB-Mx and the vintage Rolands such as the SH2.
My home set up is very different to the studio's though. I have a Access Virus Ti, which is ridiculously good, the Novation Super Nova is still a favourite as is the Roland JP8000 and my Nord Lead. I got a Waldorf Blofeld keyboard a while ago, that is really good!! There are fantastic soft synths out there now though. The impOSCar is one of my favourites.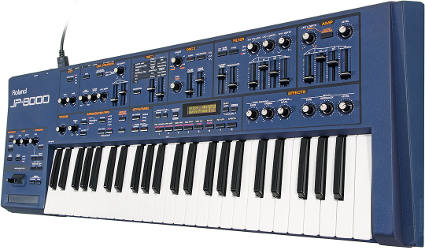 When playing live, It looks like you enjoy it when Oakey is wrestling with his Moog Liberation during Empire State Human?
Philip and his Liberation. Yes, well, it's fine when he sticks to playing in the same key that myself and Nic are playing in!!! Some nights his solo could get a bit 'avant-garde' or even 'Musique Concrete', but the audiences are always 'fascinated' by them!?!!
Outside The Human League, do you make music for your own enjoyment or under other band names? And if you do, is it also in the electronic genre?
I do!! I have been involved in many different projects over the last 25 plus years. Ranging from music for adverts, video games, corporate videos and a collaboration with the famous hard-house dj, Matt Hardwick.
I like composing music for different areas of the industry. For example, an advert I did for Heineken, several years ago, had a brief that just said 'music has to be very rhythmic, up tempo, energising.....something along the lines of a Basement Jaxx track'!!!!!! So, well, there you go!!! Lots of choppy vocal samples and percussion, percussion......and MORE PERCUSSION!!! Actually, I was very pleased with the finished result.....and fortunately, so were they!!!
The tracks Matt and I did, I was really happy with!! We completed about 4, and one track, called 'Arizona', I witnessed the mighty Judge Jules play at Gatecrasher ....'which was nice'!!
Many years ago, I wrote a series of piano pieces for a film about an artist that I grew up with in Dorset. I was given complete freedom to come up with anything I thought would fit the visuals. I was particularly pleased with how that turned out, and it gave me a chance to come up with some 'classical' based ideas. So not everything has been necessarily 'electronic'.... but variety is always a good thing!!!
You can listen to an example of Neil's music outside the band here
The Mirror Crack'd recently reformed and you play a one off gig with them in 2015. How did that go?
It was fun, but very strange playing songs for the first time in 27 YEARS!!!! The band had quite a large following in Sheffield, so I had people coming up to me that remembered me......... but sadly I had NOOOOOOOO idea who the hell they were!!!!
The Human League are always very busy touring, but future plans for Neil Sutton?
Well, as you are aware, we are just about to start a 6 week tour of Europe and the U.K. I really enjoy playing live....that's the reason that most musicians, are musicians !! The buzz of an audience responding to just the first few notes of a League song, can't be beaten !! Love Action's unique 'meow' sound (or as we call it 'the cat' ), at the front of the song, is always a good one for audience reaction !!
As long as there are audiences out there wanting to see the band perform, then I guess that we will be still be out there doing it! Travelling and playing in different countries to very different audiences, will always be exciting to me.
I was extremely fortunate as a child, that my parents took us on holiday a lot and I guess that is what got me interested in visiting different countries and sampling different cultures, even if it is only for a couple of days in each place, when we are touring.