First a little background. How did you become involved in the music business to end up as a highly respected DJ, remixer and producer? Was it always in the cards you would end up behind the mixing desk, or did the world miss out on a swaggering rock star?
I entered the industry young as teenager in the late 80's, first working as club DJ at 17 then as a DJ for a successful Hip Hop group Urban Disturbance with Zane Lowe.
I had a crash course in the Music business - touring, doing interviews, music videos and appearing on TV.
A great experience, but ultimately I was drawn back into the world of club DJ'ing. I ventured into studio production around 2000 here in NYC. It's no surprise really that I have ended up where I am creating music in the studio.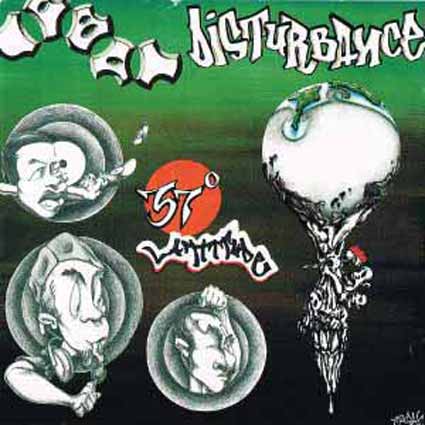 What was your knowledge of the bands vast history and back catalogue before you began to work on one of their tracks?
I grew up listening to a lot of the 80's Nu Wave groups - Human League, Depeche Mode and New Order. So I was very familiar with them.
Would you label yourself a fan or more a casual listener?
I would label my self as a fan. That era of music definitely had an impact on me.
How did it come about that you, as part of Salmon & Jenkins, were picked out to remix Love Action (I Believe In Love) for the 2003 Very Best Of release ?
I just had a record out on Deep Dish's label Yoshitoshi which had been an underground success especially in London.
A friend who was working for EMI forwarded a remix request from the label who was looking for underground club mixes for The Human League project. I, of course, jumped at the opportunity. It's not often majors let outside producers touch their back catalog.
I really like the way you remixed the track. On one hand you taken it in a whole direction, but at the same time it's still recognisable as you kept the main synth riff as well as the "meouw" sequence intro. So how did you approach the job of remixing this classic?
Because the original is such a classic, we took the approach of leaving a lot of the core elements intact for the vocal version. I find that a lot of times remixers remove way too much of the foundation, losing a lot of what made the song so memorable in the first place.
My idea behind the remix was to take it in a Latin Freestyle/ Hip Hop Booty Bass direction, keeping the familiarity but add a new twist to it, like Human League a few years later if they had moved to Miami.
Your main mix was featured on the first promo 12" that was released out of a very cool 5 part set. But you also made a dub version that was released on the 3rd promo 12". So what did you try to achieve with the dub version?
There are some DJ's who do not play vocal versions in clubs, so we did a dub version. The idea behind it was to take some of the key vocal hooks and really treat them in a Dub Reggae way, over a powerful club groove. The feel was definitely about losing yourself on the dance floor afterhours.
Did you make more than 2 mixes of it? And if you did, was it in the same style?
There was a deadline for the project so only two versions were produced. I kinda wish we could have done a slower downtempo version.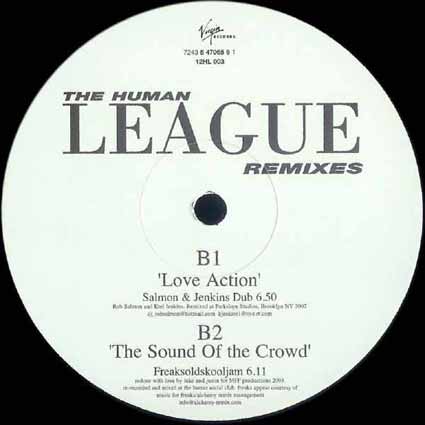 Listening to the mix 7 years after it was released, anything you would have done differently?
I think the principle remix ideas would be similar. The entire remix project was done start to finish in one of the first versions of Abelton Live that was hot out of the box at the time.
In hindsight, I wish we had constructed and mixed it all in Logic as the sound quality from Abelton Live was really not that great then.
What kind of gear did you use for remixing back in 2003?
At that time I was working with a couple of engineers, Rob Rives and Kenny Jenkins (KTel Jenkins), using Logic when it was owned by Emagic and Abelton Live.
And how is your set up these days? Is it all virtual synths for you or do you like to "fiddle with the knobs" from time to time?
My home studio set up now is quite simple. Mac Pro, Logic Pro, Abelton Live, Presonus Sound Card, Adam Monitors and the Axiom Midi Keyboard controller. All classic virtual synths and plug ins.
I have had some bad experiences in the past with old synths losing info so prefer not to use them.
You are both remixer and producer in your own right. Could you see
yourself producing the next Human League album?
I think with the groups history as 'pop icons' there would be a lot of pressure on the project to deliver. It would no doubt be exciting to collaborate with such talent.
How would you want them to sound?
I would like them to keep their core song writing intact but modernize their sound somewhere between Timberland and sleek European styled House.
They've just signed a multi-album deal with the Wall Of Sound label. Looks like a perfect match?
For sure a great match.
Wall Of Sound's roots are in the underground. I don't think a Major label would allow the creative freedom that such a legendary band deserve at this stage.
If you could pick any Human league song, which one would you like the most to remix?
(Keep Feeling) Fascination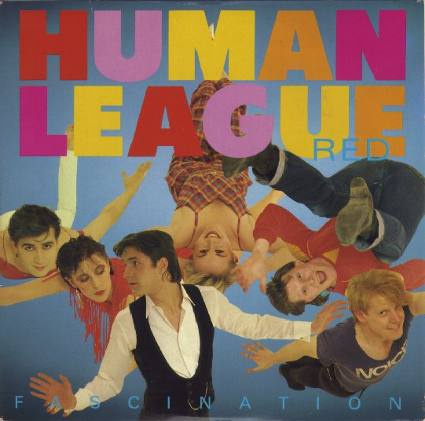 Out of the bands vast back catalogue, can you name your favourite Human League album, single and song?
Don't You Want Me? from Dare, it totally captures that period of time. A truly memorable song that moves audiences both young and old even now when played.
Have you ever experienced a Human League concert? And if you have, when was it and what did you think of it?
Unfortunately no.
The band has some very loyal and dedicated fans that try to get to as many shows as possible on a tour. Have you had the same passion for a particular band? You know, following them around the country, sleeping on train stations as you wait for the first train home?
Not really, I like concerts but my roots are in DJ Culture, so for me I follow the work of other DJ's and the dance music scene, not bands. Queuing in the snow for 2 hours to see a DJ play was as far as I ever went!
You've been in the industry quite a few years now, so how do you look at the changes the technological evolution has made in the music business regarding recording, distribution, promotion etc during your working years?
I am a little on the fence about it.
On one side, I think the fact that you can produce, distribute and promote a record from your house is an amazing thing. The process has become quite democratic, allowing everyone to have a go.
On the other side, I think the problem now is that the market is completely over-saturated, making it hard for artists and labels to be visible, because of the sheer amount of music being produced.
It's a strange time for the industry. You would think that with this digital evolution there would be all of this new, amazing music being produced, which is not the case. It's almost like the creative standard has dropped.
There needs to be a bigger filter or professional standard for music that unfortunately is lacking right now.
You're also making music under your own name, and the cool tracks I've heard online is very much in the house genre. Is that were you excel the most?
I love club music, period.
I am really drawn to House Music, especially Deep House. Growing up listening and playing House is very much a part of my personal identity.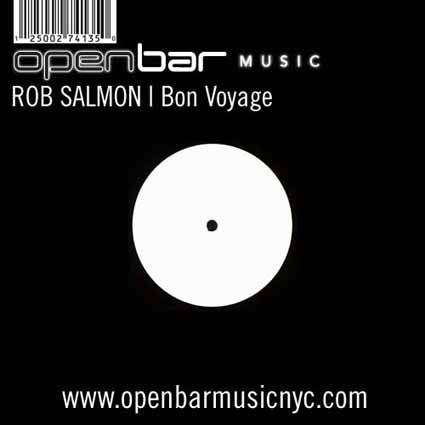 You seem like a very busy man, so what are the future plans for Rob Salmon?
I have just moved back to the New York after living down under in New Zealand and Australia for the last 7 years.
So I am re-establishing myself in the Northern Hemisphere. My plan is to continue to produce music, collaborate with other artists, tour and share my love for music!
You can learn more about Rob by checking out these links:
http://soundcloud.com/rob-salmon
http://www.discogs.com/artist/Rob+Salmon