First a little background, your own career path in becoming a sought after on stage technician? Was it always in the cards you would end up in the more technical aspect of making music or did the world miss out on a swaggering rockstar?
I originally started off playing drums in school bands then in local pub bands, but I was always interested in the technical side and worked in a studio equipment sales shop before getting into touring. So no, I donít think the world has missed anything ;-)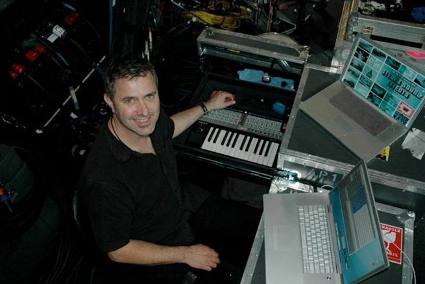 What was your knowledge of The Human League's history before you started working with them? Would you label yourself a fan or more a casual listener?
I was certainly aware of the Human League from a young age and owned a number of their albums on vinyl!
Had you experienced them in concert before you joined up?
I never got to see them live until I started working for them.
How and when did it come about that you were recruited to work on their live tours as a keyboard technician?
I was asked to do the Octopus tour (in 1995) by their manager Simon Watson, Iím not sure where he got my details from but I was already working with other tours that were using computers live and quite complex midi set-ups.
It looked sophisticated and according to keyboard player Russell Dennett there was a lot more stuff sequenced and midi was used for the first time. Sounds complicated, so any problems getting all the technology to work together in a live situation back then?
Yes, I guess it was at the cutting edge of what people were using live, 2 Macís running in parallel off stage triggering all the hardware synths on stage in the large rack. As well as all the players routing their keyboards to the synth rack.
We found out a few things on that, things that are pretty basic now, like distance midi can run reliably and that Akai samplers donít like getting too hot!
Can you elaborate on what your role is on a Human League tour for us mortal souls that havenít got a clue about the technical aspects of the set up?
Iím officially the keyboard technician, which means I get there early and set up all the keyboards, racks and computers, make sure they all work and test the sound system with the sound engineer.
I also take on some aspects of stage management, deciding where the risers will go, quick change rooms and things like that.
Electronic bands are often criticized for lacking movement on stage as theyíre stuck behind keyboards, but The Human League actually move around quite a bit with their portable synths. So has that been a challenge to you?
We use a wireless midi system on Neils and Nicks keyboards which gives them freedom to run around. The systems have to work with the wireless in ear monitoring and guitar, so they have to be checked at each gig, but we do have long cables in case of problems.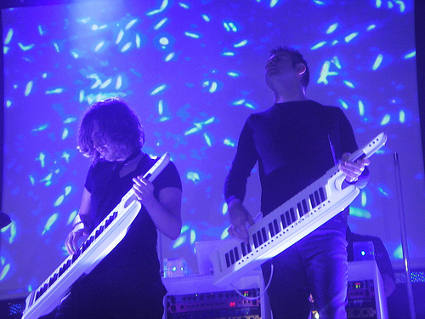 They seem to have a settled set up with 2 keyboard stations, a bank of modules and the electronic drumkit. Iím sure there has been subtle upgrades in the set up as the technology has evolved? According to live engineer David Beevers itís more reliable these days?
Yes the set up has only had minor changes over the last few years, and yes it is much more reliable now than it used to be. But we are still changing things from time to time as equipment wears out or a better solution comes along.
One notable difference was the 2004 tour, where drummer Rob Barton ditched the usual electronic drumkit to instead play on what looked like an over dimensioned tea tray?
Yes on that tour he was triggering the drums from a drum kat pad, which is basically a set of drum pads mounted on a tea tray ;-)
Any particular equipment or software through the years that really has made a real noticeable difference for the technical set up when it was introduced ?
The wireless midi control for Neil & Nick gave them a lot more freedom, and generally simplifying the system has made it more robust and easier to set up, which is important for festivals etc where everything gets set up back stage and we don't get a soundcheck.
Any technology that has caused you some grief and you were happy to see the back of it when it was possible to change it for something better?
The backup computer is a laptop which is much more tour friendly than the 2 big racks with desktop Macs we had at the beginning.
In the last couple of years Philip Oakey has dug out his old moog to play during Empire State Human. Any problems handling such an old and vintage piece of equipment? Is it being transported like nitroglycerine?
We have 2 moogs with us just in case. And yes it just comes out for the song and I put it away in it's case straight afterwards. You have to leave it on for a bit to warm up and stabilise and so I have a tuner inline to tune just before it's used.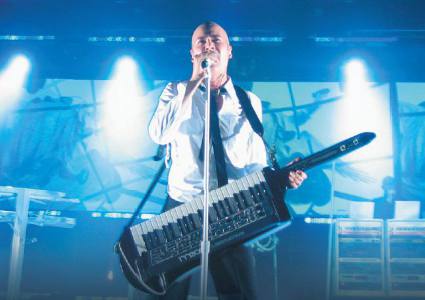 The band has a vast collection of vintage synths hidden away in their Sheffield studio. Have you visited the studio and gone on a discovery journey in their storage room? Which ones were the most fun to "fiddle with the knobs"?
Yes Iíve been there quite a bit and had a fiddle but its all top secret ;-)
You've attended a lot of Human League concerts through the years, so any favourite song they perform live?
Favourite song? Changes, but Louise I always enjoy.
Listening to The Human League live 20-30 times in a row on a tour sounds like a wet dreams to die hard HL fans. So are you able to enjoy the show while youíre working?
I donít get bored during a show, for sure.
I have a few cues and things to do to keep me on my toes. The audience reaction is also as important to me off stage as it is to the band on stage. They can really make a show exciting and fun.
Youíve been touring with the band for roughly 15 years now. Any favourite tour regarding the stage production and musical equipment coming together particularly well?
The tour we did with in December 2008 (The Steel City Tour) had a great stage set designed by Rob Sinclair, and also some great support acts (ABC and Heaven 17).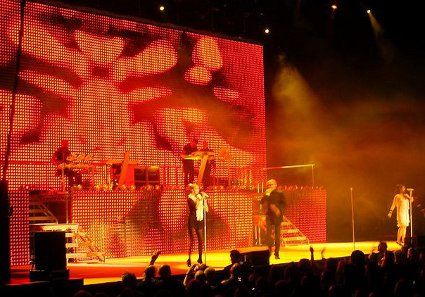 You've been around the world with the band, so any favourite country, city or venue?
Countries, cities, venues tend to blur into one!
Japan for its culture shock value, Italy for the food and wine, UK for its familiarity.
Out of the bands vast back back catalogue, can you name your favourite Human League album, single and song?
Judging by my most played in iTunes...surprise to me...Travelogue, Toyota City with The Touchables coming a close second.
Theyíve just signed a multi-album deal with the cool Wall Of Sound label. Looks like a perfect match?
Yes, looking forward to the future.
The band has some very loyal and dedicated fans that try to get to as many shows as possible on a tour. Have you had the same passion for a particular band? You know, following them around the country, sleeping on train stations as you wait for the first train home?
No.
You have a very impressive CV working with some really cool artists like amongst others Bjork, The Cure, Annie Lennox, Tears For Fears and Kylie Minogue. Any artists left you think could be an interesting challenge to work with?
Itís a challenge and a bit nerve racking to start with a new band but Iím always excited and enjoy working with varied and different acts. Iím just happy to have people ask me to work with them and get the chance to be involved in an industry I love.
The technology has evolved at an unbelievable rate in the music business since you started out. How is it working in the industry today, compared to back when?
The technology has changed hugely but the job is still very similar, except now I spend quite a lot of time in the production office getting the internet working :-)
Youíre also an integral part of BjŲrks live set up, where youíre using cutting edge technology like the ďReacTableĒ that looks like something from a high end casino! Could you see The Human League incorporate some of the technology in their more pop oriented live performances?
BjŲrk is very into experiment and living dangerously on stage, which I think suits her music and style.
The Human League, as you say, are more of a pop band where the audience wants the songs played as they expect. They do use quite a high tech set up but with less random elements.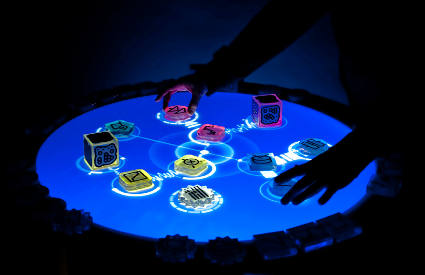 Since music is such a big part of your life, do you get inspired and create music yourself?
I do do some stuff for my own personal consumption, and work closely with some acts where I have a musical input in the programming stages, but just like the varied acts I work with my own music tends to be varied also.
So what kind of music do you create, is it inspired by the acts you work with?
I suppose it ends up having an electronic angle as I work mainly in software and don't tend to use real instruments.
Do you have a myspace or similar where one can hear your musical excercises?

No, like I said, for my own ears only :-)
You seem like a very busy man, so what are the future plans for Alan Pollard?
Iím working with Goldfrapp at the moment doing lots of promo for their new album Head First. Iíve designed and build a new live equipment rig for their tour, which Iím also be operating during the shows.
Will you be involved with The Human Leagues Night People Tour of the UK in November/December this year?
I'm still out with Goldfrapp but not right at the moment as I'm at home with a broken leg. Might be able to get back for the last week but won't be doing Human League, unfortuatly.

You can learn more about Alans career and what he's up to by checking his website;
www.alanpollard.co.uk