First of all, what is your own career path in becoming heavily involved in the music business as a sought after video director?
I left school in 1987 & became and underground mechanical engineer for British Coal as it was called then, at Agecroft Colliery on the outskirts of Manchester City Centre ... no kidding, it was hard work. I have played the guitar since I was 10 years old after seeing The Police & The Stranglers on BBC2's Rock Goes To College.
My Grandad had also been in many successful jazz & dance bands in the 40' & 50's touring the country & playing trumpet & piano, so there was always someone connected to the music industry or entertainment industry in the family. After 3 years "down the pit" the Colliery closed in 1989. Thank god, I got a few thousand pounds redundancy money.
At the exact same time The Stone Roses & Happy Mondays were playing almost weekly in Manchester so I found myself going to many of their early gigs in the city & also to the legendary Hacienda.
Later on I got a small job in a studio in Manchester & then began to direct a few promos for unsigned artist. I also had a friend Brian Cannon who was designing covers, eventually Brian did many of the Oasis & Verve covers so his success spured me on a little bit more.
George Hanson was an old school friend of mine & George directed The Verve's "The Drugs Don't Work" video. George kept telling me to get more into the visual side of things as he was looking for someone to possibly do an on the road docu with the Verve. He did it but I didn't work on it unfortunately.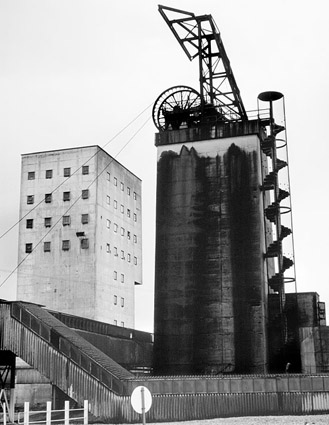 How did it come about that you were chosen to direct the Live At The Dome dvd?
This was down to me freelancing for Secret Records. The director of the label hired me in after seeing work I did for EMI Records & The Steve Marriott Tribute concert.

What were your ambitions with the shoot?
I wanted to simply represent the live show, which is all you can do really. I went to see them in Sheffield before the Brighton shoot.
How involved were the band in both the planning and after production?
I met with Simon Watson & Graham Feast who were great nothing was too much trouble in terms of what we wanted. It's the venues that are the problem. Brighton Dome wouldn't let us put in a crane & if the venue say NO then your hands are tied.
Reviewers don't understand this when watching live DVD's the arguments & problems we have at venues all across the country, on many occasions a venue has spoiled a good live DVD shoot.
I only met Phil & the girls twice, once before the show & once after at HL studio in Sheffield. The label said turn this round quickly & it was the label who were paying so that's what had to happen.
I brought in Chris Tsangerides to record the audio. I had worked with Chris on a few live things including a large Gary Moore concert at Sheffield Arena a few moths previously. I was impressed with him so he got the job. The sound was mixed at Metropolis with Dave Beevers I think.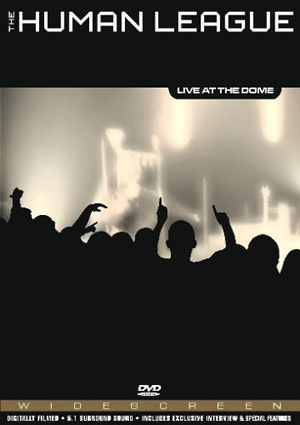 How did you prepare for the shooting of the Brighton show? Did you take in many shows on the tour leading up to the big finale in Brighton?

Only Sheffield
How much knowledge did you have of their music before you started working with them? Would you label yourself a fan?
I didn't go in cold. In fact I think I knew almost every song. I was in my teens in
the 80's so its not like I had never heard any Human League music, far from it. They were always on Top Of The Pops or Radio 1 a hell of a lot.
Since it was the last gig of the tour, did you feel preassured to getting it right, as there wasnít an opportunity to redo shots at a later gig? Or did you tape some of the earlier shows as back up footage?
None taped earlier, too expensive. My contract stated one show only, any foul ups & I have to finance a re shoot so there is always pressure. Its a one shot deal every time no matter what date on the tour.

I was at the gig and witnessed Philip Oakey taking a tumble on stage, but that was edited out of the dvd. Was that a concious decision or did the cameras miss that bit?
No we had it well covered. It was edited out, we aren't there to make anyone look silly. If a problem can be fixed I would fix it, I want the band to be happy with the production more than the label who is really the client.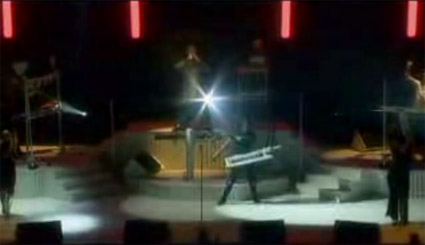 Is it possible for you to enjoy the show at all, when you have to concentrate on getting all the angles right?
Not really as it is full on handling anything over 5 cameras.

Is there a difference in directing an all synth band as opposed to a more rocky set up? Electronic bands are often critized for lacking movement as they are stuck behind keyboards, but The Human League actually move around quite a bit with their portable synths.
Good point, I hadn't seen a Human League live show before so when I went to Sheffield I couldn't believe how much Phil worked the stage. It was totally different to what I expected from him & the band, in fact it made things easier. It was much more like filming a guitar band.
I was much more concerned that the venue were becoming more & more difficult. I eventually went to Brighton for a site visit & meeting with the Dome management & the record company to try & persuade them to let us put our Jimmy Jib crane in but the venue weren't having it.

Looking back on the recording 4 years after itís release, anything you would have done differently?
I would have insisted on a Jimmy Jib & maybe less white diffusion in post production, but I still think its a good document of that show. I have used snippets on my Nyquest showreel, I wouldn't do that if I didn't like it.
Actually I would have done the interview section completely different.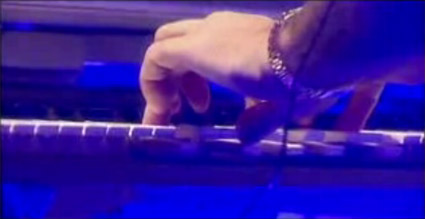 Favourite Human League album, single and song and why?
Album has to be Dare
Single & song Love Action (I Believe In Love). Great tune. Great vocal.

If all goes well, The Human League should have a new album out this year. Could you see yourself working with the band again, either a promo video, documentary or another live dvd,?
Absolutely. I would advise them not to go to a label & hire me & my crew instead ha ha ha. At least they would own the copyright for a change & have a much more hands on involvement. We could really go to town on a project like that.
Anybody got Phil's number??

What are the future plans for Dave Meehan?
We are now working directly with bands such as The Stranglers , Deacon Blue, Fairport Convention, Andy Fairweather Low on documentaries & live DVD products. We also offer crew & video facilities for touring with large video screens & projection.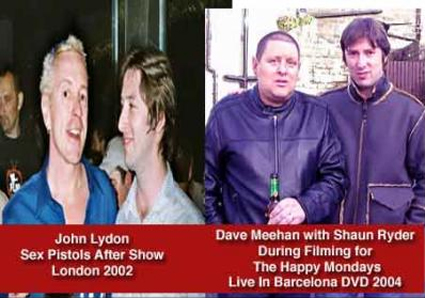 You can learn more about Dave Meehan's projects at: