First a little background. How did you become involved in the music business in the first place to end up as a highly respected artist, remixer and producer?
For me it all started in 1988 as a studio engineer/session keyboard player at a studio called Blue Chip in Stafford. From there I went and played on early Bizarre Inc and library albums whilst engineering artists that booked the studio.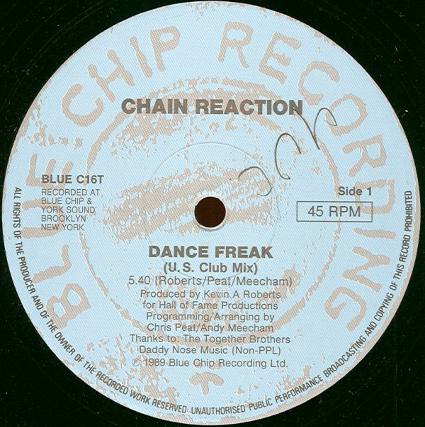 After leaving Blue chip I finally joined Bizarre Inc along with Dean Meredith, we then signed a record deal with Vinyl Solution in London and released Playing with Knives, I'm gonna Get You and had huge overnight chart success.
Things happened really quickly and we then moved from Vinyl Solution and signed a deal with Warner Bros and recorded an album with them that never got released.
We were then dropped from Warners and signed a new deal with Mercury Records where we released an album called Suprise, still as Bizarre Inc. We had chart success with various records from that album but we still got dropped for not hitting the top ten.
So Dean Meredith and I decided to go our separate ways and start our own solo projects being depressed with being signed to majors and being fed up with being told what to do. It was a real eye opener being signed to Indy labels and having more artistic control over our music.
I then started a solo project under the name Sir Drew and signed to Kingsize Records from Surrey. I recorded two albums and did one live tour. After that I returned to work with Dean Meredith and we formed Chicken Lips, which was also signed to Kingsize records.
Whilst Chicken Lips was with Kingsize I started a new project with DC Recordings called Emperor Machine, which started as my pet project and has grown into a full size beast.
Whilst in Chicken Lips and Emperor Machine I have been bombarded with remix requests. Think I must have remixed over a hundred artists and as I usually do at least two or three versions that's a shed load of remixes in the last few years.
What was your knowledge of the bands history before you began to work on one of their tracks? Would you label yourself a fan?
Most definitely yes - a HUGE fan. The first Human League track I heard and took note of was Empire State Human. I think I heard it on the radio and it was as though it was made for me. I was a teenager at the time and it grabbed my attention and if felt like it was exactly the sort of music that I was looking for. I have followed them ever since.
Spookily enough I went to see them last year. We use the same synth repair man (James Walker at Synth Repair) and he got me some back stage passes.
I showed up clutching some Emperor Machine albums to give to them but I was too star struck with Philip to hand them over, don't think I managed to string a sentence together but luckily for me James and Philip got onto the subject of modifying synths so I could nod in the right places.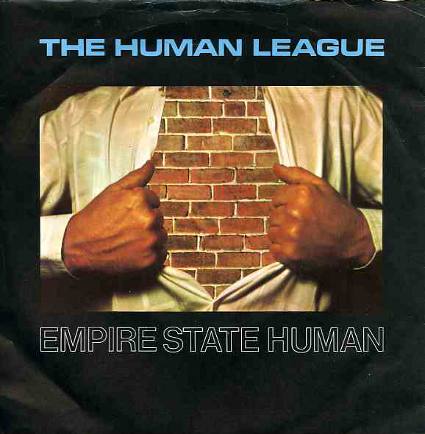 How did it come about that you were picked out to do a remix of brand new single Night People?
James Walker at Synth Repair told me that they were recording a new album. I then contacted Mark (Jones) and Alvin (Collins) at Wall of Sound and asked them to let me know when the album was finished because I would love to do a mix. I didn't have high hopes but then a few months down the line Alvin contacted me and offered me the mix.
Since this is the first new Human League material released in almost 10 years, what was your initial thought the first time you heard the track?
The first time I heard the track I was on holiday in Butlins with my daughters and wife having a whale of a time with Bob the Builder and I received an email on my phone with a Soundcloud link to listen to the track.
I was expecting the email so I was checking my phone regularly and when it arrived I deserted the wife and kids, and Bob and listened to the track on my phone and even then my reaction was that I was really pleased, it was what I wanted it to be for the new HL.
They did exactly what I had hoped they would do. I got really excited.
Your remix has been causing rave reviews among fans and I agree. It's awesome! The bass that fills up the entire room, the synth bleeps, the hardhitting beats, but still keeping it faithful to the original. It's all good! So how did you approach the job of remixing this electro stomper?
I wanted to make something really synth driven and I wanted to use just two synths to do it. I used the Roland System 100 as I wanted the sound of the early HL with a bit more of a modern production.
I also used a Polymoog to recreate some of the Dare style synth strings. Whether they used a Polymoog I don't know but it did the job for me. It took me about a week to do. I think I also used a VCS3 in the track to thicken up some parts.
I just wanted to make something really synth heavy knowing Philip likes disco I thought that would probably be a good route to take. So it just ended up being what it is. Anything I do never really ends up the way I intend it to.
Philips vocals were really inspiring. I love his bizarre lyrics, always have done. I thought the girls sounded really cool as well. I think I was just lucky to be working on a HL track which was good before I even touched it, that really helps a lot in remixing.
I do read my own press good and bad. I am really pleased with the reactions. I know some people have said that I have ripped off Giorgio Moroder. I am not offended by the comparison (maybe even a bit flattered) and have a huge amount of respect for Giorgio Moroder and love what he does but I think people may need to listen a bit more carefully and perhaps listen to a bit more of what I did on the remix and listen to a bit more of my work.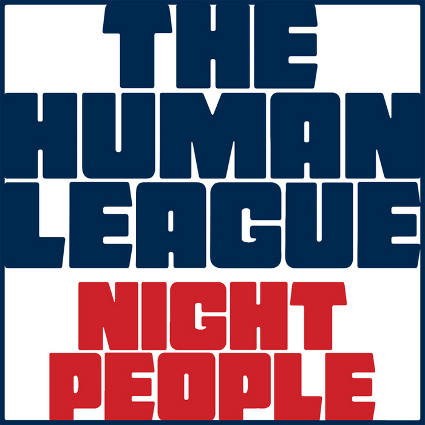 I have been reading Youtube comments and its being having me in fits of laughter about how angry people are getting. It's not that I find it funny that people are getting angry - I admire their passion - its just that they are wrong -
I know what was in my head and it wasn't Giorgio Moroder!! I just came out with a Human League inspired riff, the track and the vocals filled me with inspiration – it's a simple as that!! I know that Philip and Giorgio are friends -be a good question for them!
As you deconstructed the song for the remix, any particular parts you enjoyed more and did you keep some parts of the original, besides the vocal?
Yes, some parts were great. There was a track of syncushion that I really liked and kept. There were various synth noises and effects that I kept. I replaced all the drums purely for the reason that the original drum track didn't really fit the type of synths I was playing. I needed more of a heavy disco beat.
There were some of the synths on the original version that I didn't use because they didn't fit with what I had added. I always try to use as much of the original parts as possible unless the remix ends up going completely left field.

My old ears think they can hear some familiar Human League synth noises and drumbeats in the mix, but I can't nail them down. So is that a coincidence or is there a HL sample somewhere?
No - there are no Human League samples.
But it is funny you should say that as the sample for the bass drum I use does sound like the start of Empire State Human kick drum. It is sampled from a disco 12 inch, but I can't remember what it is! I suppose because I use the System 100 for most of the bass parts it would have that familiar sound.
I have always thought that if you want to make music like the early Human League then get a System 100 and it is so instant. I think it would be a sad thing to remix the Human League and then sample their original sounds. I am a synth hoarder and I have most synths that I need to recreate any period sound I want.
Did you make more remixes than the one that made it to the final single release?
I originally did three remixes. The original vocal version that you have heard. I
have done an instrumental version and also an alternative version that I didn't use.
The alternative version that I didn't use was a huge homage to Travelogue and I thought it was a bit too retro so I didn't finish that version, although I did like it and got really excited about doing it as his vocals fitted perfectly, but it was too much. I decided to carry on with the dancefloor version.
What kind of gear did you use for remixing? Is it all virtual synths for you or do you like to "fiddle with the knobs" from time to time?
As I mentioned above I originally wanted to use only two synths. I quite often do that as it seems to make me work harder on a synth. In the end I used the three set out above.
I don't use any virtual synths at all. I have tried all the virtual synths and just haven't really got on with them. Some of them sound really good but I love the hands on approach so much that I think I will always use vintage synths.
Funnily enough I recently bought the Waldorf Blofeld which is a digital synth but I bought it for a Chicken Lips project and I must say that it is a really inspiring synth and the fact that it has a least a handful of knobs on it makes it pleasing to use, that's the closest I have got to virtual synths. I am a rampant knob fiddler.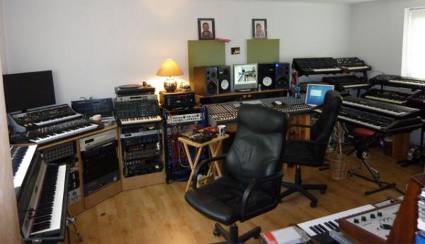 It sounds like you hoarding synths at the same pace as Philip Oakey, so I'm curious to know which one is your favourite?
Favorite synth for me at the moment is the System 100.
Your mix is part of the best remix package in decades for a Human League single release with Mylo, Cerrone and Villa also providing excellent remixes. So have you heard any of the other contributions?
Yes - I have heard them all. They sound cool. I think it was a good choice of a remix package. I think Wall Of Sound have covered all angles from a dancefloor angle which lets face it is the purpose of a remix package.
Are there any plans of putting out a promo 12" of your remix, perhaps backed with the instrumental version?

To be honest I was a bit gutted that my mix didn't make the 12" and I'm not sure that the instrumental version will ever be released by Wall Of Sound. Suppose that makes it a bit special.
If you could pick any Human League song out of their vast back catalogue, which one would you like the most to remix?
Only After Dark.

You're also a producer in your own right. Could you see yourself producing the next Human League album and how would you want them to sound?
How could I possibly answer that question without getting too excited and filling up your webpage with utter drivel about what I would like to do. I have a million ideas but it would depend on what they wanted to do. I would love to produce the next HL album but lets see if lady luck shines.

Their signing to Mark Jones cool Wall Of Sound label looks like a perfect match?
I agree. Mark is really good for the Human League I think. He is keeping the band alive from a creative point of view. Great move. Can't really think of a better label that they should be on.

Can you name your favourite Human League album, song and single?
Travelogue, Only After Dark.
It reminds me of the passion of wanting to own a synth. This album made me lie in bed at night with headphones on until the early hours of the morning when I should have been asleep. It made me late and tired for school. Reminds me of my youth.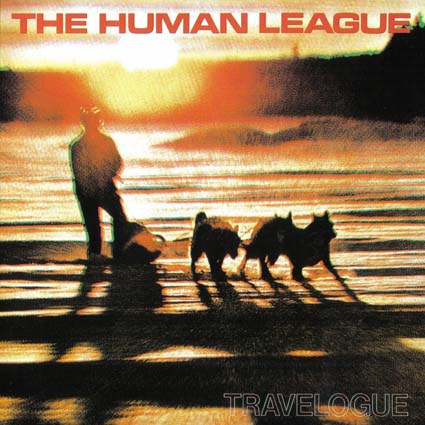 In the last decade the band have done a lot of touring and worked themselves up to become a fantastic live band. So have you ever experienced a Human League concert?
The best Human League gig I went to was obviously the most recent one where I met Philip backstage. It was at Victoria Hall in Hanley, this is where I saw most electronic bands in my youth. Great venue. I thought they were really good live, plenty of energy and a good crowd.
The band has some very loyal and dedicated fans that try to get to as many shows as possible on a tour. Have you had the same passion for a particular band? You know, following them around the country, sleeping on train stations as you wait for the first train home?
No - never. I love and live music but in my youth I spent most of my time being in bands. I followed a lot of bands but never felt the need to sleep at a train station. I am really lucky in that there are some really good venues near where I live.
One of the most exciting gigs for me was when I went to see Blancmange and they were brilliant, they walked out of the backdoor and said hello and asked us if we knew where they could get some chips.

You are The Emperor Machine when you're in the studio but evolve into a full band when playing live. So can you tell a bit more about what you want to achieve under this moniker?
The live side of Emperor Machine came about as a result of pressure from the record company wanting me to promote Emperor Machine. Luckily I had some close friends that agreed to help me put the live sound together.
The main purpose was just to do some gigs and promote the album at the time which was Space Beyond the Egg (from 2009) and also play some tracks from the previous album Aimee Tallulah is Hypnotised (from 2004).
Its never been about wanting Emperor Machine live to be a huge live band. It was about doing a few live gigs and having fun. To be honest my main passion is the studio work. Playing live can be a bit of a hassle because of the amount of time it takes me to program the synths.
There are no sequencers running in the Emperor Machine live show. Most of the basslines were triggered by the drummer using Roland drum pads. What this means is that there was never any fixed arrangement for playing live, it was all a jam.
Every gig was a different version from the last so whilst on stage this is the best fun ever, not having to stick to a sequenced pattern it is also a programming nightmare that I don't enjoy very much and if I am honest, although some fans have been great and the gigs were fantastic I much prefer being in the studio, being creative.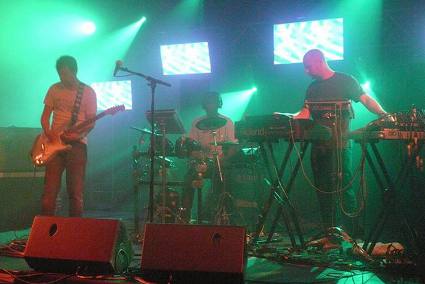 You've been in the industry quite a few years now, so how do you look at the changes the technological evolution has made in the music business regarding recording, distribution, promotion etc during your working years?
I think it's great. For starters the evolution of music tech greatly reduced the hiss from analogue machines so there are now programs to re-create analog hiss and noise. For me it's whatever equipment you enjoy.
Some people purely use a lap top and soft synths to make music. I don't. Other people are absolutely analogue purists and still use tapes. I'm not. I think its best to use whatever equipment is easy for you to use and floats your boat and the advance in technologies gives people more choices.
I think that the only down side to technological advance is the slow decrease, or should I say fast decrease, of vinyl sales and the heartless sound of MP3s.
My most obvious dislike of the way technology has evolved is file sharing. I understand file sharing, I understand blogs, I know what it is about but years ago if I could tape an album I would tape it rather than buy it but now it really is stopping artists from making any money.
If I have to get a day job I have less time to spend in the studio.
You seem like a very busy man, so what are the future plans for Andrew Meecham ?
Studio, studio, studio, studio.
I am involved in some interesting projects at the moment. Some I can't mention. I am excited about the release of the new Emperor Machine album this year, there is a new Chicken Lips, LP5 is starting to sound really good. There is a Big 200 album nearing completion and we now have our own Lipservice label which is exciting.
You can listen to the full Emperor Machine Remix of Night People here, while it can be purchased at Beatport.
Learn more about Andrews career and future projects by checking out these links;