First a little background. How did you become involved in the music business in the first place?

By accident, I had dropped out of studying architecture and set up Fast Product as a "brand" and a logo in 1976 with no particular intention of making music.
What was the thinking/ambitions behind setting up Fast Product?
All hell broke out on the music scene in the UK. My partner of the time Hilary Morrison gave me a copy of Spiral Scratch and this more than anything else was the moment I realised that Fast Product would make music.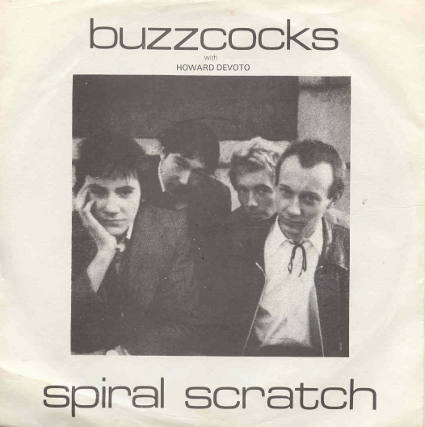 Can you remember your initial thoughts the first time you heard the demo tape The Human League send you? Like if this kind of electronic music was something special you hadn't heard before from any other band?

Yes. I immediately knew I wanted to release it, I didn't really know a lot about Kraftwerk etc but I liked it:

-because the big fat base line felt like a great industrial interpretation of Parliament/Funkadelic/George Clinton which I had listened to loads before punk,

-because it so obviously wasn't punk,

-because the lyrics to Being Boiled on the one hand made no sense but on the other seemed to contain some elusive truth,

-because it sounded to me like a hit record

-because I like the idea of releasing something that just arrived out of the blue in the post, what a great world that would be!

-because to me the electronic soundscape had a kind of grain or texture to it I responded to, like a lot of people I loved Polaroid film at that time and it seemed to me to have the audio equivalent of the magic of Polaroid..

Fast Product then released Electronically Yours. In hindsight one of the most important releases of electronic music as Being Boiled is cited by bands, producers and DJ's around the world as inspiration. It went to No 6 in the UK Singles charts when Virgin re-released it in 1982, which showed you that you did something right almost 4 years earlier?

It always felt like a hit to me. I and my team really did believe that what we were doing mattered, we were totally committed to it and liked and disliked things with a passion so in a way it is not totally surprising that it still resonates.
Looking back what is surprising is that there is a history at all, I'm surprised the world is still here but as it is I'm not surprised people still listen to it.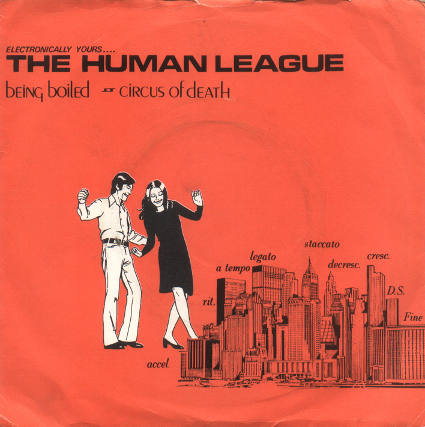 The next release on your label was The Dignity Of Labour 12" which was very experimental. Oakey has later in their career described that as a mistake, since people regarded them as a pop band after the Electronically Yours single and then they put something that leftfield out. How do you view that scenario?

This as far as I was concerned was on purpose, two almost contradictory things at least at once (as was usual with everything at Fast Product).
It was to stop people getting comfortable with the idea the Human League might just be a pop band but it was also to clear the ground so that the next thing could really concentrate on being a hit, which as it turned out took longer than we all thought.
And of course I just loved the material and it still sounds good and fresh to this day. And then finally I liked the fact that even though it was unlikely to reach a wider audience we all spent even more time and effort on the packaging, as was recorded in part on the flexi disc we included with it.
My strategy was always to keep people guessing a bit, and in part this way the bands themselves had more freedom of manoeuvre as well as me and Fast Product having fun.

It turned out to be the last Human League release on your label. The major companies had started sniffing round and the band signed to Virgin Records. Not long after Fast Product put out its last release with Dead Kennedys "California Uber Alles". What was the reason behind closing down the label?

Well as you can tell from the answer above I had a strategy and was already thinking about getting hold of the bigger resources another label could bring to move the Human League onto a bigger audience. I like audiences.

After California Uber Alles I think it seemed we had this run of singles that worked really well and already had this kind of status in the underground media. I really wanted to do more but everything would have been judged against it and the general zeitgeist was moving on so rather than torture ourselves with the question what would Fast Product release next I created new identities.
It is still my plan some day to maybe release something else altogether under the Fast Product brand, maybe some furniture or a mountain bike components, erm I don't know what.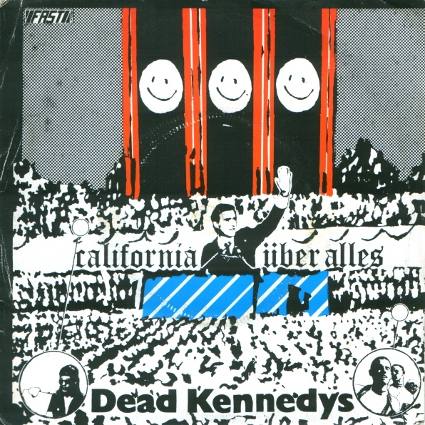 Was it a natural progression of your relationship with the band that you kept managing them even after they moved to Virgin Records?

Yes it was a natural progression.
Was it easy to manage them since both Oakey and Ware were famous for being strongwilled and opiniated?
Yes it was easy to manage them BECAUSE they were strong willed and opinionated. If they weren't I would have got bored much sooner!

Your relationship with Virgin was off to a fair start as the Reproduction album went into the Top 30 in 1979 and Travelogue went Top 20 in 1980, but neither spawned any hit singles. How do you look back on those 2 albums that are critically acclaimed by todays music press?

It did work well, and for me much of this had to do with the working relationship with Simon Draper, Richard Branson's MD of the time.
One of the musical links that is often over looked is that Simon had been involved in what was previously known as the Canterbury scene which was an avant garde rock scene. Caravan and also Henry Cow, Hatfield and the North and Egg, Soft Machine also being in this area and Mike Oldfield on the fringes.
Apart from stoned US funk I had also explored some of this music in the early seventies, particularly Matching Mole (a pun on Soft Machine in French). Although I had struggled with it because much of it seemed too dry however it may have been part of how I understood The Human League and I think it certainly helped Simon understand them and some of our strategies.
You can also see this interest of Simon's reflected in XTC also signed to Virgin. As is so often the case in retrospect you can find threads that were not obvious at the time.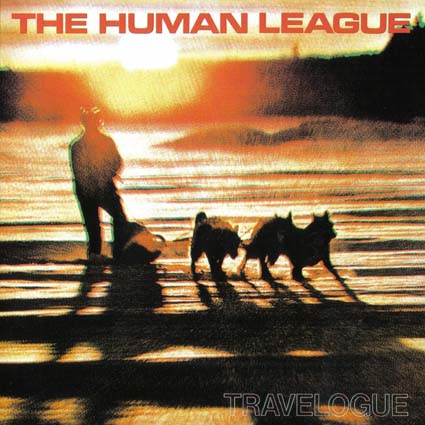 The band split in two after the second album as Ware/Marsh left and founded Heaven 17, which turned out to be a blessing in disguise with two great electronic bands lighting up the charts. But how did you look at the break up? Did you sense that Oakey/Wright could carry on with a more pop oriented style?

OK easy. I encouraged and to a large extent planned the detail of this split up because the tensions in the band were becoming destructive and I was confident enough to see a better way forward for both the fractions if they split.
I brokered a settlement between the two halves which included the right for Phil and Adrian to use the name (even though they did not at first want this) because I believed then that they needed it as a platform for the pop break- through I was sure was just around the corner for Phil.
At the same time I was confident that Martin and Ian could have more fun with a new identity- which they duly did. Because I was intimately involved in the split I was able to set things up with Virgin for both bands on a kind of double your money basis even though they were at first very worried.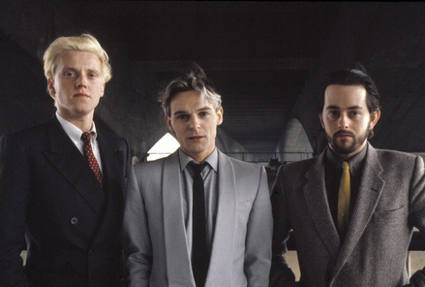 The Sound Of The Crowd was the bands first major hit as it went to No 12 in the UK Singles Charts. Key elements was the inclusion of Ian Burden in the band and Martin Rushent as producer. Could you hear from this single that the band were on the verge of striking gold?

No! I wasn't always right, it is a well known fact that I had real doubts about releasing this as the first post split single and Phil and I had quite a stooshie (Scots for a strenuously argued discussion) about it. It did though signpost the way.
Trivia; Ian Burden had previously been in a band called Graph. I released a track from them on the Fast Product audio magazine "Earcom". What I was sure of was from the very beginning of the Dare sessions was that Don't You Want Me's opening bars were the beginning of a pop classic.

It was your idea that Jo Callis joined, which in hindsight was a masterstroke as he co-wrote some of the biggest hits in the 80s and has been cited by Oakey as the most talented member of the band. What gave you the idea to get a well known guitar-player to join a group taking pride in being all synth?

This is true. I had worked with Jo as part of the Rezillos and come to revere his sure sense of killer chords and hooks (not to mention some bad ass guitar noise he could rustle up when called upon).
I was pretty sure he could reinforce the pop writing ambitions of the new Human League and that it could be interesting for him to have to rewire his process by laying his guitar down.

Then Dare was released and the bands popularity went sky high. It must have been exciting and rewarding following closely how this classic album took form and the band you had managed since the early beginning all of a sudden became superstars?

Not much to say here. Yes it was extraordinary to go all the way from the cassette tape in the post to a global number 1. Thing I remember most is a chaotic and very cool 72 hours in Reykjavik at the end of the tour at that time.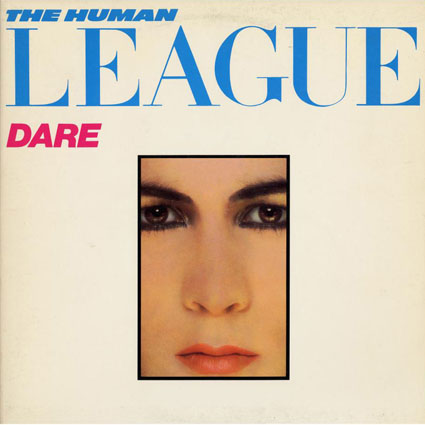 They had a hard time making the follow up to Dare and the fruitful relationship with Martin Rushent ended with the Fascination EP in 1983. which still contained some of their best ever work. What was going wrong?

My recollection was that it was a combination of many many factors. The first and most obvious being the pressure of scrutiny coming off such huge success.
I also recall tension over the electronic purism that Phil always insisted remain at the core of The Human League. I think he understood that rigid adherence to this helped preserve their unique position whereas Martin Rushent felt that the songwriting could just as well form a base for a more varied palette including "real" sounds.
Also as ever in such small but complex groupings of people it is very difficult to manage the tension between different people as they become more and more confident or sometimes more and more confident and more and more insecure at the same time.
Which is quite a common process in bands. Not naming names here because I think all involved were caught up in these emotional difficulties.

In 1984 Hysteria was finally released. That has gone down in League history as the most difficult, time consuming and expensive to create, changing producers twice and Callis leaving soon after its release. How did you experience the making of that album and the loss of Jo Callis?

Not very happily.

The band then dumped the work they did with Colin Thurston making the follow up to Hysteria, and then turned to Jam & Lewis for producing Crash. This was around the time you ended your management of the band. Were you gone when they started working with Colin Thurston or can you shed some light on the material that was dumped?

I don't really recall. I think I was around for some of the work with Colin and shared their view that it wasn't really working. Didn't have the musical personality.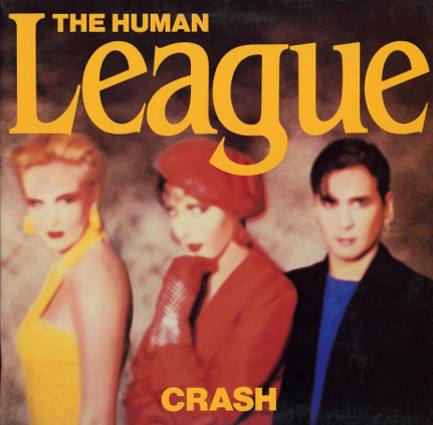 Have you kept in touch with the bands career since you left? Since then they have put out 4 albums (Crash, Romantic?, Octopus and Secrets). Any thoughts on these albums?

No I haven't although it has been interesting to see their work resonate so strongly and taking a place in pop history. I am often forced to listen to them in Tesco's.

They are currently locked away in their Sheffield studio working on a new album. How do you view their position in todays market, since things have changed drastically in the whole music business since you started out back in 1978?

I don't.

How do you look back on your time with The Human League, it must have been a rollercoaster ride? You were pioneering electronic music in the early days, which must have been fun? And could you ever imagine the band still being active 30 years on?

Don't regret it if that answers the question?
Favourite Human League album, single and song?

As I put their first record out and managed them to a no 1 I think I'm allowed more than one!

So: Empire State Human would be one, epitomized the kind of elliptical, perverse optimism the early band reflected.

A second would be their cover of Lost That Loving Feeling live at The Electric Ballroom in London in I think 1979.

And probably Human. Terry Lewis and Jimmy Jam were crucial talents and it was just cool to see this gang from Sheffield pull it off. There is a soul in those machines.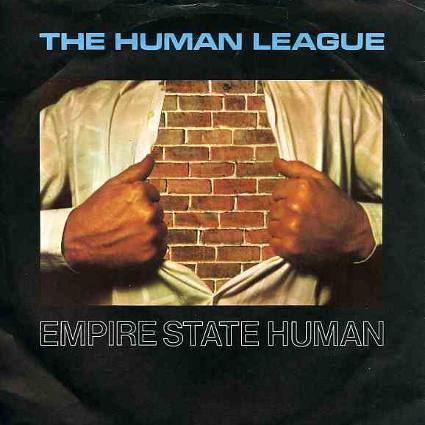 You've made a career change and are currently into the world of animation with Ink Digital. Even if the music industry has changed since you started out, do you ever get the itch to get back to working with music?

Well actually I moved in to supervising music for movies then moved into feature film production as well as having the animation studio. I have a new feature development fund with UK/Polish producer called Fudakowski Last llp (Peter Fudakowski produced Oscar winner Tsostsi) , I am completing production of Sylvain Chomet's £12.5 million feature this year financed by Pathe.

What are the future plans for Bob Last?

Next build the animation studio, its next big project is working on Ruby Tuesday an animated film based on a suite of Rolling Stones songs. So I guess that is closer to music again. Make some live action features, I am developing a war movie.

Don't know about music. I listen to a lot of Steve Earle and currently as well as black music these days and I'm specializing in covers of Stuck in the Middle With You. I like Sparklehorse's version and a great one by Eagles Of Death Metal.
Sometimes I think I might get involved in music again, especially when someone like Franz Ferdinand come along and reference other bands I discovered like the FireEngines (if I can use that term in a modest sense).
You've can follow Bob's future projects at: