First a little background. Your way into the world of music is described in details on your website, but what made you want to be a photographer in the first place?
Went to Art College to study Graphic Design. Part of the course was to photograph products/people (college mates) we had designed. We were lucky enough to have a studio and darkroom. I loved it. 3 of us then change our course to applied photography in graphic design.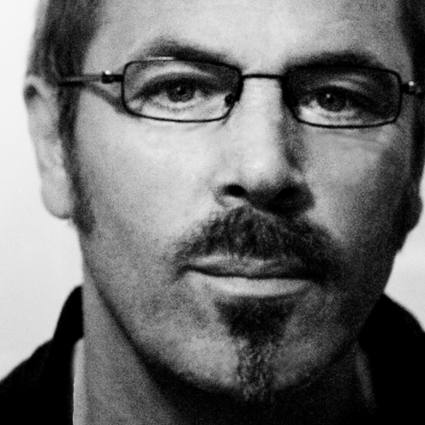 What was your knowledge of The Human League's history prior to working with them? Would you label yourself a fan?
Not a lot the first time I met them. Big fan now though.
The entertaining story of your first meeting with the band is brilliantly described on your website, but was it that session for Record Mirror in 1980 that got you the photoshoot for the Don't You Want Me single since Oakey liked your work so much?
When we were on that shoot which started in the Pub, I asked the guys if they minded if I started taking some shots as they were talking to the journalist. I can remember Phil saying ďI like him. He seems to be a nice blokeĒ. So as far as Iím concerned I got the gig on politeness!
Next sleeve job was for the Love And Dancing album which was quite a contrast to its companion Dares cool cover photo as the whole band and crew look relaxed and smiling. Was that your doing?
That was Ken (Ansell) the designers doing
First new material after Dare was the Mirror Man single, which is one of the more eye catching Human League sleeves as Oakey is towering in heels higher than the girls! Even in the flamboyant 80s that must have been a different photo session for you?
Spent hours setting this shot up. It was all done with reflecting light with mirrors. No no really. It was a good day..
Philip Oakey has always taken a strong interest in the image of the band on their releases, so did he usually present you with an idea for the shoots or did you have freedom to be creative?
50/50. Of course he had the final say
According to your website you had a photo session for the Hysteria album rejected. Care to enlighten the readers with the theme of the shoot?
Yes, it was 6 ft letters cut out of mirror flex clamped to a scaffolding structure which read Human League which was then mirrored by a lake and reflecting the band in it. The scaffolding would then be retouched out making the letters float. It was shot at the Virgin Manor.
Personally I thought it looked great but Phil took one look at it and said ď that didnít work did itĒ I was f.cking gutted.
Philís original idea was to have the letters in 3D so they looked like they had been cast which would have been amazing but it would have cost ridiculous amounts of money. I still have the shots . Iíll show then one day soon.
This picture is a big favourite among Human League fans, so can you remember anything about when it was taken (original photo can be viewed on Simons website here)?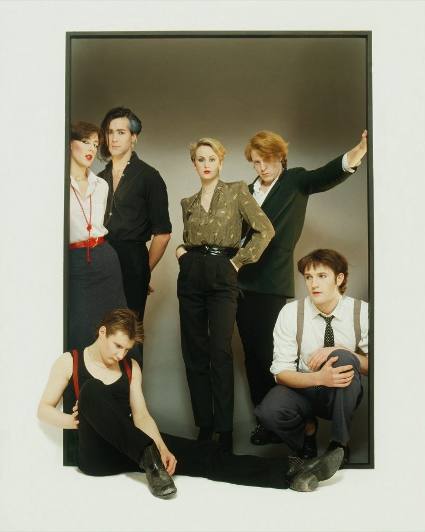 One of the early sessions taken up in Sheffield. The day was moody and wet as you can tell.
You took pictures of the band through the 80s ending with the cover for their last Virgin Records release with the Romantic album. Which was quite different for a Human League album as it had all members of the band on the front cover?
Yeah. Much more gritty
How was it working with the band for the photo shoots? They come across as being very nice people, even though they had a reputation in the 80s for arguing a lot among themselves?
They were all down to earth northern lads and lassies. Great fun most of the time until they argued. From a photographers point of view photographing 6 people and making the shot work is always going to be a challenge but when they argued amongst themselves boy that was tough.
Bottom line though is that I have a lot of found memories of the League from those days.
What kind of gear did you use back when you worked with the band?
Loads of stuff. 5 x 4 Land Cameraís, Maymia 6 x 4.5 ,Hasselblad and 35mm . All film.
And what is your set up these days?
To day 80% 35mm digital and 20% Phase1 then onto Photoshop for grading.
When taking a picture for an album or a single, do you need to hear the songs first to get a vibe of what the pictures should be like?
Yes, always helps me visualize.
How different is it working with musicians compared to professional models?
Loads. You always get something real from an Artist.
Out of all your work with The Human League, can you name any favourite image?
Tough one. I donít think I do.
Out of the bands extensive back catalogue, can you name your favourite Human League album, single and song ?
It has to be Donít You Want Me Baby just because we shot it in Philís squat at the time and then onto a local bar.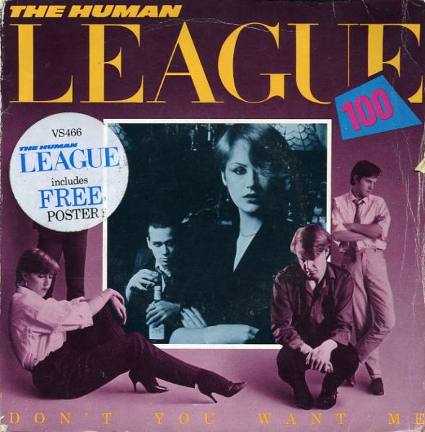 The band has admitted not being great live in the 80s, but has evolved into an amazing live band through the last 10 years and put on a really good show. So have you experienced a Human League concert?
Iíve seen them a good few times but not recently. I really must go and see them.
First new Human League material in almost 10 years was released by Wall Of Sound last year with the Credo album. Have you had a chance to hear it?
Yes, bought the Album.
The Human League have some very loyal and dedicated fans that try to get to as many shows as possible on a tour. Have you had the same passion for a particular band? You know, following them around the country, sleeping on train stations as you wait for the first train home?
Iíve got lots a favorite bands I like. When I first started in the music business I went to numerous gigs photographing what ever bands playing for Mags like Sounds and Record Mirror.It all most put me off going to see my favorite bands when they played, not quite but almost.
Last time I slept on a railway station I was probably pissed from a party but that was a very long time ago.
Everything seems possible with todays cameras and digital treatment, so how do you look back on the process taking pictures of the band when maybe everything wasnít at your fingertips and you had to be creative in a different way?
It was a great time being very hands on and experimenting in the darkroom. I work with digital all the time now. Itís just a different way of working but there was something special about those days.
A big difference in today's music world is that the format youíre working with are shrinking. From 12Ē vinyl, to CD size to digital releases. Have this development changed your approach when taking a picture?
Very much miss the 12 inch vinyl thatís one of the reasons I wanted to work in the music business so I could see my work displayed on. CDís are still cool though you can get more images in.
Can you remember the first ever picture you took for a music release? Must have given you a buzz the first time one of your pictures featured on a cover that hit the UK Charts?
When I started working for Record Mirror when it was B/W only. I got my first cover of Angus Young AC/DC back stage in their dressing room. You can check the shot out in my archive 1 on my main site (here). That was a great buzz.
But still do get a small buzz when I see my stuff in print.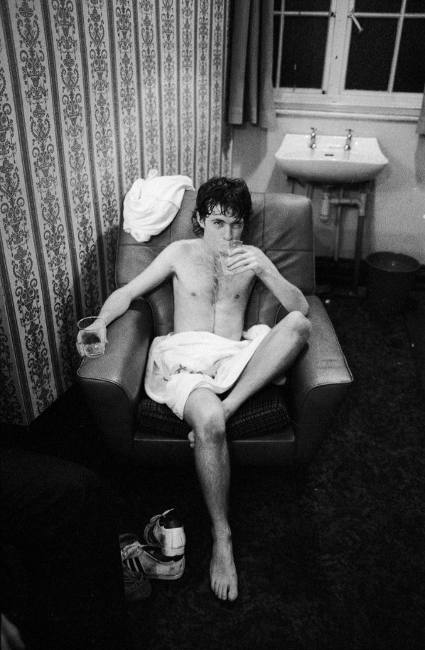 Most odd photo session?
The most odd photo session. Theyíve all bit a bit quirky.
Your portfolio is like a who's who of the music business, so out of all your work, any favourite snapshot? If I'm allowed to pick out one artist, how was it working with Depeche Mode?
I only ever did one quick session with them but they were a cool bunch of lads.
You seem like a very busy man, so what are the future plans for Simon Fowler?
Still working loads. Doing a bit more video directing. Just in the process of building a music photo selling site of my archive called poprockphotos.com. Iíll give you a shout when itís up and you can tell me what you think!
Simon has a very entertaining Human League special on his website not to be missed, can be viewed here.
And check out the below links to learn more about Simons career and future projects;
http://www.simonfowlerphotography.com/
http://photosbysimonfowler.com/
http://www.simonfowlerphotography.com/
http://simonfowlersarchive.com/
http://en.wikipedia.org/wiki/Simon_Fowler_(photographer)