First a little background. How did you get involved in the music industry to end up as Senior Product Specialist at Roland?
Since being born – music was in my blood! (mostly synth) and the need to make music. Since the age of 8 I started making my own tunes on my Yamaha PSS 180 (I think) over the year then moved onto a C64, then the big change was the Amiga500+ with 1MBof Ram. I used to rip samples from games and make tracks using Oct-a-Med – 8bit gritty samples and 1MB Ram.
I then made my way to comprehensive school and they had a Roland JV-30 – nobody knew how to use it, or what it did. I used to borrow the JV-30 over school holidays and sequence 16MIDI tracks and 8 audio tracks from my Amiga and Oct-A-Med software. – This went on for years.
Around the age of 15 I bought a Yamaha DX27, Korg Poly800 and Kawai K4 to include in my Amiga Setup. From this point I realised that I could make a future for myself in the music industry. – Back then I just wanted a record deal and I would be sorted….. As we all know, this is not the case, it's not as easy as that.
The years went by, leaving my teens and then into my 20`s! ( A lot of trance filled years there! ) While still making my music with my Amiga Setup. Back in 1999 I was unemployed, but was lucky enough to get onto the New Deal for Musicians – a government scheme to give unemployed people a chance to work ( for free ) in the industry that they wanted to peruse – Mine was Music!
I had a placement in a recording studio – Warrwick Hall of Sound – Cardiff with Rohan Tarry (Google him) He taught me the ins and outs of Logic 5 and production/mixing etc. I used to take all my kit down there, bounce all the MIDI data from my Amiga into Logic, reproduce the tracks – and I worked on one track I wrote called B With U – a session singer Amy Allinmore came in to record vocal parts and things went on from there! –
I wrote tracks called SUMMER and ALONE –these featured the amazing voice Tara Busch – she has come a long way since then (I still have all these recordings – I may put them online for this interview…. )
2001 arrived, I was 22 without any `proper job` as some people may call it – but I was still determined to get my foot in the door and to be where I belong. – August 2001 I did my first live show in a club in Bridgend, South Wales – it was live on local radio, lots of lazers (the same people that did the JM Jarre shows in 1995 ) - Musically it was AWFUL – but glad I did it none the less.
September I sent off a demo to Future Music Readers Demos. – January 2002, My track was released on the Future Music CD-Rom cover disk and a nice write up inside. – a month or so later I was approached by a label CEDEX RECORDS (not sure if they are still about) and they signed me up for a 12" single release – they pressed up 100s of 12" singles and gave me a nice cheque for £800 – this kind of thing does not happen anymore! – I bought a Roland JP-8000 out of the money. – Nothing really happened with the track.
The same time as my record deal – I had a better offer…. I became a dad (being a father is the best thing in the world!!) – I got married and started a family. – I had a factory job from 2002-2005, moved home and just got on with family life (still writing music) – Had a daughter and called here Ellie-Jarre!
2005 I applied for a Job at Roland UK as a Customer Service / Sales representative in Swansea, South Wales. Within a few months I was moved onto Technical Support – mainly because they couldn't get me out of the support room with all the synths! – So from 2005 until this very day I remain Senior Product Specialist for Cakewalk / Boss / Roland – many years of interesting stories to tell – but we will leave that for another day..

I imagine working at a company like Roland UK is just one big synth jam? ;)

I am very lucky to be surrounded by all these synths and other musical items - its so tempting all the time to buy synths. They call me the Synth Freak here!
What was your knowledge of The Human Leagues history and back catalogue before you started working with them? Would you label yourself a fan?
Yes, I am a fan – absolutely. I remember seeing Empire Stated, Being Boiled on TV back in the early 80s - I must have been about 3 or 4. Seriously – Like I said before, I was born with synth in my blood.
A special album for me is Octopus. 1995 was a great year – I remember a boiling hot, blue sky summer – I was just finishing my school life, I had new prospects and I was free to do whatever I wanted. (Mainly making music, listening to music and hitting the trance scene in the clubs! ) – So whenever I listen to that album – it takes me back. Great times!
The ground-breaking Being Boiled was created on the Roland System 100 back in 1978, so how does this track stand in the history of Roland?
Things have moved on a little from them - back in the 70s 80s Roland was mainly a synthesizer company, now our product range is so fast, there are a lot of ground-breaking albums/tracks out there that we look back at. - And albums like Travelogue and Reproduction will always have a special part in Roland synthesizer history!
You're always credited in the bands yearly tour programme, so can you tell us a bit about what your role is in connection to The Human League?
Being a fan I was very nervous about dealing with them – would they ruin my world if they turned out to be …. Idiots, arrogant and big headed? All us synth freaks are though… are we not?
I was extremely pleases to learn that they are absolutely lovely, lovely, lovely people to work with. Dave Beevers is my main man there (I have dealt with Neil Sutton also) My role is mainly to help Dave out when his brain overloads. – Half the time we just end up talking about geeky stuff!
Can you go into specific details about the bands Roland set up when they play live?
For years they have been using the Roland AX-7 Keytars and JV90s (I think) as MIDI controllers for the rack systems. The old Roland vintage GR guitar has shown its face also. – Recently from what I understand they use 2x Roland Fantom G as a synth/sample solution, using internal waveforms and samples – and the iconic AX-7 – O`h and the Roland TD drum setup. – We also saw the appearance of the Roland SH-101 this year.
A few weeks ago I was talking with DB and he mentioned that Phil did not want to go down the live software synth option for live.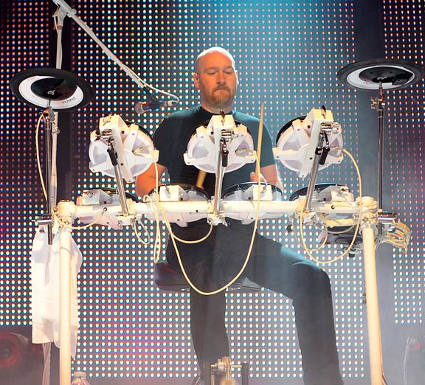 With your trained ear can you tell how a Roland product has contributed to the recording of a Human League album?
With the early Human League albums you can hear the timing of the synth percussion and lots of other artefacts. I love this sort of thing, that's what it's all about for me – organic! But it's also great to hear these old classics amongst the digital romplers, samplers and soft synths. – (Just love that melody line on Filling Up With Heaven)
Dare stands out for me as being a great Juno/Jupiter (I think ) polysynth album. – Just love the linear approach to the music. The Linn drums are fantastic on the album (I have a bit of a thing for the Linn and Drum Trax)
Philip Oakey is famed for collection old synths, so do you have any favourite yourself?
I have loads of favourites but I think I should split them up into two groups. 1. My favourite synths that I have owned. 2. Synths I want to own!
My Favorite Synth that I have owned…
Korg Delta – just for the analog string section - have an analog string fetish too!.
Roland Juno 6 – this looks as good as it sounds
Korg OASYS PCI - ok this is not analog, or really a synth, it was a PCI card that the Korg Prophecy and Z1 came from - This was simply amazing – VERY buggy but it was so unique. Mine is hosted in a Mac G3 running OS9
Ensoniq SQ80 - bought this for £10!!!
Roland JV-30 - simply for its sentimental value, this year I received the original
JV-30 - from my old school! - And the synth brass sounds great – with a bit of filter envelope added.
GEM EQUINOX – I am a big fan of quirky, oddball synths – not just analog and this was a great synth/sampler from the mid 1990`s – full of bugs though.
Casio CZ-5000 – again quirky and odd – used all over the New Romantic track.
Gen SX-1000 – I replaced the components to make the filters nicer.
Roland Vsynth (Original) I chose the original simply because of the look, build and the many encoders. – I try and treat this as a PPG wave by using filling the 32mb of internal sampling RAM with vintage oscillator waveform samples etc.
Roland JX3p and JX8p – both great examples! The Feeling Part I was originally created using these two – presets also! I love all the Roland JV/XP range (big fan of Mike Oldfield's Songs of Distant Earth – its 80% JV!)
Emu Emax – did I mention I LOVE vintage samplers? Listen to J.M Jarres Zoolook and you will see why! – Analog Filters on the Emu Emax 1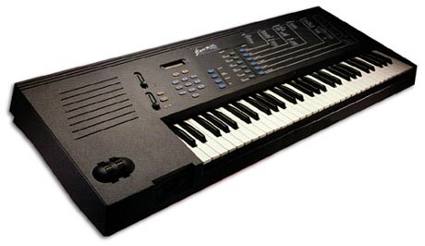 Yamaha SY-85 – Great early 90s lo-fi synth with flash rom for samples!
Roland SH-201… Check out what this baby can sound like on my youtube channel!
Alesis Micron/ion – this thing is Vince Clerk in a box! What you can do with this is great! OK filters not the best but its not all about filters…. Its how you use it!
I could go on and on but better stop now……
Synths I would like to own…
Moog Voyager

Prophet V

Arp 2600

Fairlight CMI

Yamaha DX-1 (Dave I know you have one! )

Dave Smith Prophet 08

Mellotron

Korg SQ-10 with a MS-20 please.

Roland Jupiter 8 – you just have to own one..

Roland JD-800

Yamaha VL-1

Korg OASYS – the original prototype from 1994 ( I think )

Emu Emulator 1

Alesis Andromeda

ANYTHING THAT MAKES A SOUND!
Wall Of Sound released first new material in 10 years with Credo in early 2011, which was praised by press and fans as a return to form. So what did you think of it?
I just love this album, not just because my name is on it but because it captures everything that I love about the League – the sounds, structures, hooks etc – it has that added extra for me and most fans because of the absolutely amazing live shows this year! One of the very few albums (all artists) that I can just put on and listen through to the end.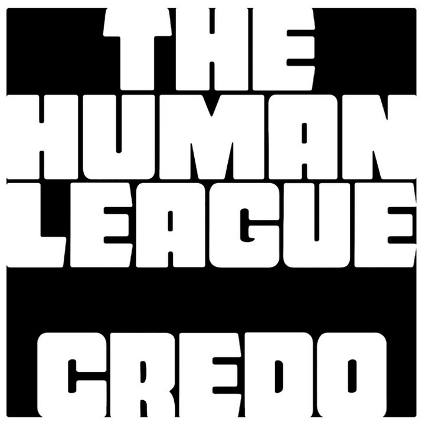 According to producer Dean Honer they used Roland ProMars on the Credo album, but do you know if other Roland products were involved in the recordings?
Unfortunately I know nothing
Out of the bands vast back catalogue, can you name your favourite Human League album, single and song?
This is a difficult one..
Favorite album – Octopus
Favorite single – One Man in My Heart – that pitch bending bassline and drum programming is just perfect – amazing song too! ( My kids love (Keep Feeling) Fascination )
I'm guessing you've seen the band live quite a few times, so any favourite tour out of the lot?
Easy…. XXXV Tour!
The Human League has some very loyal and dedicated fans that try to get to as many shows as possible on a tour. Have you ever had the same passion for a particular band? You know, following them around the country, sleeping on train stations as you wait for the first train home?
Yes! – Jean Michel Jarre.
JM Jarre is not only my musical idol – the first sounds I remember hearing was Equinoxe! By the age of 6 I had all his albums – this was then fuelled by the BBC broadcast of the Huston concert at Christmas time.
By 1988 when I was 10 things just went crazy in my world of Jarre – with all the media hype in the UK for the Docklands concerts – he was on TV/in the papers – everywhere, before this it was Jammy Jar who ??? – This time will always be special to me. (Unfortunately I didn't make it to the shows)
Summer of 1993 it all changed after his Europe In Concert shows – Wembley Stadium was my first, then Manchester, I went to all of the 1997 UK tour, spend £100`s on a HD satellite system just to see his concert in Morocco deserts live on TV – flights would have been cheaper.
2008 I went to all the Oxygene Tour UK shows, 2009 the In Door shows where I got to meet him for the very first time – had a chat in his dressing room with the rest of the band – it was totally surreal.
Again followed the 2010 UK tour and met him again in Cardiff, I was a little cooler this time….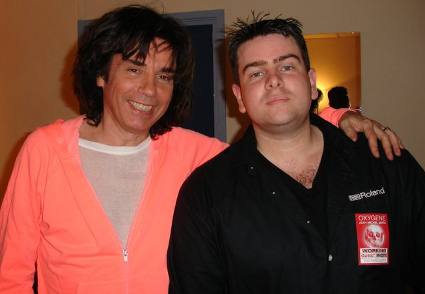 Your knowledge of synths are being put to good use as you're the creative mastermind behind electro pop group The Circuit Symphony, so can you tell us a bit about what you want to achieve under this band name?
I love synthesizers, sampling, great hooks , sequencing, experimenting with sound and technology.
Being a fan of electro pop bands such as OMD, Human League, Blancmange, Depeche Mode and anything on the MUTE record label but also having a huge passion for vintage prog rock such as Genesis, Yes, Faust, Curved Air and so on.
I somehow what to fuse all these interests and passions together - maybe not on the same album or track, but on separate side projects. - I am currently working on a prog album called The Secret Garden - its been on-going for 4 years, lots of Mellotrons, drums and moogs!
I trust The Circuit Symphony releases are purely created on Roland gear!?
Hmmm sort of. Everything was produced within Cakewalk Sonar, owned by Roland , so full point to me! – ORACLE was produced in Sonar 8.5 / X1 along with a Casio CZ-5000, Roland JX3p, Roland JX8p, Dave Smith MoPho Keyboard, Emu Emax, Roland Juno 6 and more! – The next album is going to be 90`s influenced so maybe more Roland synths on there.
With your heavy connections you should have a good chance of The Circuit Symphony landing the support slot on the next Human League tour ;)?
I am in the process of setting up a live show for the ORACLE album and some new tracks to take out on the road next year … Being support to the Human League would be a dream! I will keep wishing and see if it comes true!
Its safe to say that the two Roland products that has made the biggest impression on my record collection is the System 100M and the TB-303. It's quite amazing how these are still used when you consider that were originally manufactured in 1975 and 1982!
These old products have so much history, character charm - it must be great to work in their presence. - That alone is inspiring - and to think that the TB-303 was originally a flop and simply being used in a different way than originally intended was responsible for the Acid House scene!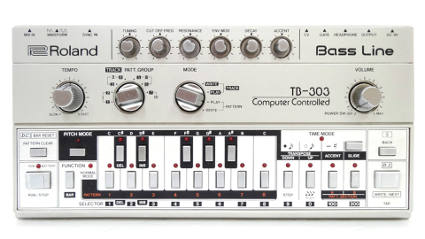 The technology has evolved at an unbelievable rate in the music business in the last decade, but analogue synths are still going strong. So how is it working in the industry today, compared to when you started out?
Personally I think this is the case for two reasons.. They sound alive and organic, plus you get a different feeling and approach to standing in front of a vintage synth with all its knobs and sliders – compared to a powerful modern day synthesizer with a touch screen and minimal interface. The old synths are alive, they react with temperature, with voltage and so on – they are alive !
Future plans for Oliver Davis?
Tour UK and establish The Circuit Symphony in Europe – especially Sweden, release a new album, support the Human League live!, remix OMDs new single, enter a Spanish version of The Feeling Part I for the 2014 Spanish Eurovision (not sure how yet) – also working on a special version of the Pet Shop Boys "In The Night" for the live shows – due to legal reasons it can only be used for the live shows, cannot be recorded – so if you want to hear it – come along!
Check out the below links to learn more about Oliver and his future projects;
https://soundcloud.com/thecircuitsymphony
http://www.facebook.com/pages/The-Circuit-Symphony/130244543694661
https://twitter.com/CircuitSymphony
http://www.myspace.com/thecircuitsymphony