First a little background. How did you become involved in the music business as a sought after photographer?
I was a student at Amersham Art College and was offered a job with LFI in 1977 / 78. LFI were a small music based agency at the time and I was interested in music. I worked for them for a number of years taking lots of live photos and sessions.
Through this I started working closer with bands and record companies, then I branched off from LFI about four years later. I went into partnership with Simon Fowler who also worked at LFI and we had a great number of years working together.
I did more session work for albums and press etc and we had a studio in Fulham. The partnership ended in 1986 and I carried on working from the studio.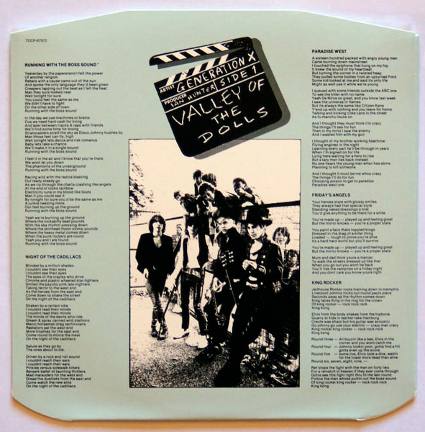 What was your knowledge of The Human League's history prior to working with them? Would you label yourself a fan?

Simon had done sessions with The Human League in the earlier years. We all had our various artists we worked closely with and between me and Simon managed to build up a good photographic reputation. I liked their music.
How did it come about that you started working with them in 1994 as they were signed to EastWest?

Contacts in the music change all the time, people move around from one place to another. It happened that I was doing quite a lot of work for WEA (Warner Bros) and they put me forward to shoot the Human League in 1994.
As I remember I was quite chuffed to be shooting them as they were one of the acts I was keen to shoot.
Your work featured heavily on their out put in 1994/95, including 4 UK Top 40 single releases, as well as the tour programme. I notice Philip Oakey only has stubs on the Filling Up With Heaven cover, so did you do shoots for each individual single?

There were two sessions as far as I remember, three including the Secrets album.
The next release you worked on was the Secrets album and its lead single All I Ever Wanted in 2001. The album has a very eye catching cover and I really like the "closeness" of the picture, being up close on their faces, but also them being close physically. Did you come up with this idea?
No, the idea as far as I know came from Stuart Crouch at Peacock Design. We would have various meetings to discuss ideas on how to achieve the final product.
Did they pose together for this picture or was it manipulated with individual shots of each of them morphed together?
These were individual shots put together, even this takes quite a bit to work out.
When taking a picture for an album, do you need to hear the album first to get a vibe of what the pictures should be like?

Sometimes it helps to give you a feel, especially if it is a new act. Also it is important to meet the artist to discuss ideas and to work out what the artist is capable of during a photographic session and their attitude to it. Some like to stand and some like to jump about!
Philip Oakey has always taken a strong interest in the image of the band on their releases, so did he usually present you with an idea for the shoots or did you have freedom to be creative?

The first two sessions were left up to me as they were for press and for a possible singles bag use at the time. On the day of the shoot everyone puts a word in, how they'd like to look and the overall image.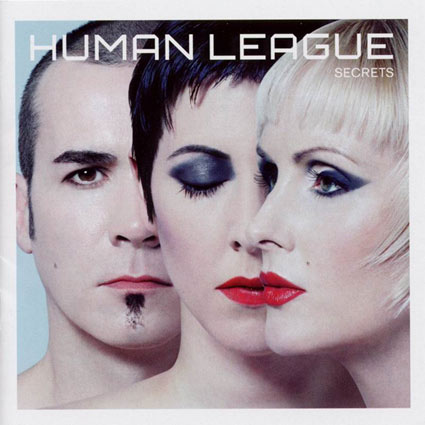 How was it working with the band for the photo shoots? They come across as being very nice people, even though they had a reputation in the 80s for arguing a lot among themselves?

Very easy and relaxed. Only three to deal with, odd numbers are always better to shoot.
What kind of gear did you use back when you worked with the band and what is your set up these days?
I used to use a Nikon FM2 and Hasselblad - all film. Nowadays Nikon D3X
How different is it working with musicians compared to professional models?
Very! Artists have a lot of input, models have virtually none.
Out of all your work with The Human League, any favourite image?

The Secret album and packaging.
And out of all your work, any favourite snapshot?
Too many to choose...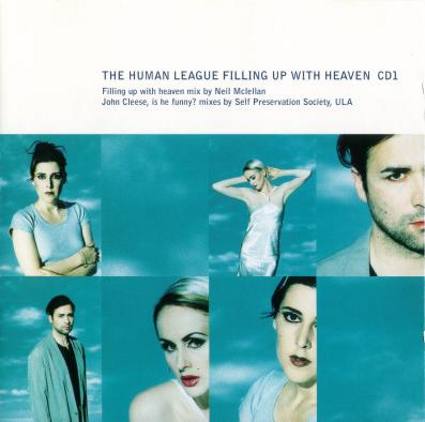 Out of the bands extensive back catalogue, can you name your favourite Human League album, single and song?
"Dare" the Instrumental version. No particular favourite track, but I like the Human League. My children love "Don't You Want Me Baby"?
The band has admitted not being great live in the 80s, but has evolved into an amazing live band through the last 10 years and put on a really good show. So have you experienced a Human League concert?
For some reason, no.
They've just signed a multi-album deal with Mark Jones' cool Wall Of Sound label, looks like a perfect match?

Yes
They have a new album ready for release soon, so could you see yourself working with the band again?

I hope they would put me and Stuart Crouch in the frame as we work together well.
Everything seems possible with todays cameras and digital treatment, so how do you look back on the process taking pictures of the band when maybe everything wasn't at your fingertips and you had to be creative in a different way?

The main thing today is that it is so instant and throw away. I think the magic of me knowing I had good picture inside the camera and no-one else could see it until I had processed and printed was a great buzz! Digital is amazing, but everyone can be a photographer now.
Can you remember the first ever picture you took for a music release? Must have given you a buzz the first time one of your pictures featured on a cover that hit the UK Charts?
To be honest I can't remember my first release, but The Pretenders single "Talk of the Town" was my first memorable. I had been on tour with the Pretenders with UB40 in support. They asked if I could shoot the singles bag for them. Good times!

A big difference in today's music world is that the format you're working with are shrinking. From 12" vinyl, to CD size to digital releases. Have this development in lay out changed your approach when taking a picture?

Not really, I put the same effort into terms of ideas, you just have to bear in mind that the impact of the image is going to be smaller on today's medium. This is frustrating as 12" vinyl and album covers were much more tactile and interesting to look at.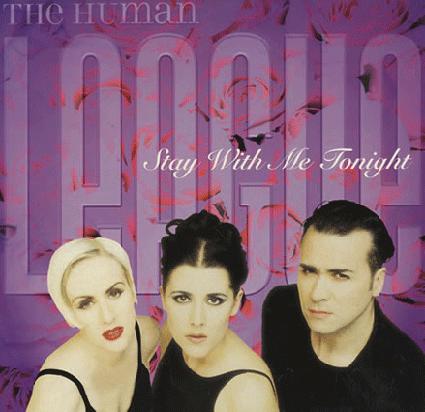 The Human League have some very loyal and dedicated fans that try to get to as many shows as possible on a tour. Have you had the same passion for a particular band? You know, following them around the country, sleeping on train stations as you wait for the first train home?

Not that obsessed. I wouldn't do that for any band.
You have a highly impressive career, including working with some of the biggest stars in the music business. If I had to pick one out, how was it working with The Cure?

You hit the nail on the head, over the years The Cure have to be top. Many fond memories.
You seem like a very busy man, so what are the future plans for Paul Cox?
Would like to carry on taking pictures for as long as possible.
You can learn more about Paul Cox by checking out his website;