First a little background about how you ended up as a musician. With your highly talented guitar play was it always your passion to play electronic music or did you want to rock?
Thank you for the compliment! I have never had any classical training or any lessons music-wise. I was given a guitar by my dad when I was 16 years old along with a copy of 'Let It Bleed' by the Rolling Stones as a kind of starter pack. I began to learn by ear gradually from that point.
My interest in playing instruments increasing, I experimented with drums and then later on, keyboards. My interest then progressed to synthesizers and analogue instruments. Bands around at the time that I found inspiring were Death In Vegas, Campag Velocet and Ladytron, alongside my lifelong Bolan obsession.
The bridge between electronic and guitar music was there from then for me, and that crossover sound has interested me ever since.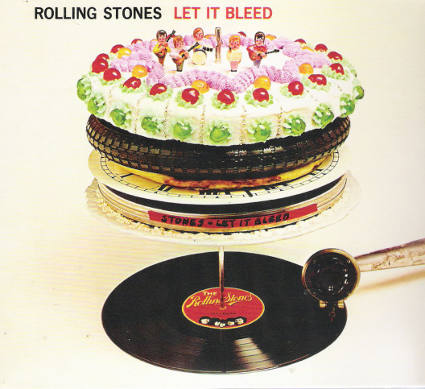 Before joining the band you had a very short spell with current Human League drummer Rob Barton in guitar band Venini?
Robert was in the original incarnation of Venini with a post Pulp Russell Senior, and Danny Hunt (of Ladytron fame). Russell eventually decided to not play live in the group and I was asked to audition, by which time Rob and Danny were onto pastures new. There were no further recordings from that point unfortunately. I didn't have the huge pleasure of playing alongside Rob until Hiem began in 2001.
You joined the bands live set up in 2001 as they were promoting the then new album Secrets. So how did it come about that they recruited you?
It was a very Human League style recruitment!
My friend used to put on a mid week club night called Le Citrus, which was the best night in Sheffield and has not been matched since! Anyway, one wednesday morning, my house was broken into and all my keyboards and synths were stolen. Nick took me down to the club to cheer me up that night and get me drunk on beer and lots of absinthe. Enter Philip Oakey.
The rest is a little hazy but there was much talk of T.Rex, MC5 and Iggy... I might have been dancing. One week later I was telephoned and asked to play with the group on an upcoming promo tour of the new album 'Secrets' with no audition or anything.
The rest as they say is blah blah blah... It transpired later on that the lovely Russell Dennet (band member from 1986 to 1995) had put in a good word for me, for which I am forever grateful.
How well were you into their history when you joined? Would you label yourself a fan?
I was a fan of the group, perhaps in more of a passive, Sheffield patriotic way.
When it came to being familiar with the songs (in so much as learning to play them) there was quite a lot of 'blagging it' as we say in showbusiness! I soon worked out how great it was. Anything that close to the glam movement was going to peak my interest.
Can you tell us about your keyboard and guitar set up when playing live?
Now I'm using a lovely Line 6 FX unit and my shiny new Fender Jaguar! The guitar set-up at the beginning was a bit wobbly. I was used to having control of an amplifier and foot pedals for effects, so it was strange to adjust to the rack mounted amp and wireless radio pack scenario.
Gradually over the years I have been trusted to have the odd tweak of the sounds and its getting close to something that sounds almost like someone playing guitar (don't tell Philip).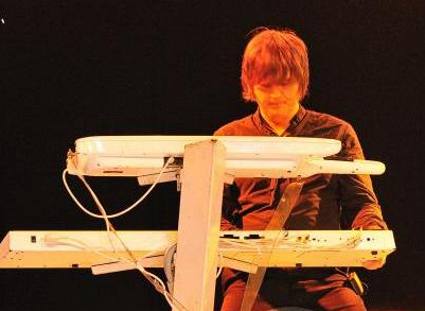 The Roland guitar I used with them for the last 9 years was lovingly nicknamed "The Dalek's Handbag". The bass version is brilliant, it was really exciting to use the old analogue bass synth unit too.
The keyboards we are using now are the Roland G6 Fantoms which are really good, versatile synths. All the lads chime in when we are trying to make keyboard sounds for the old and new songs, with humourous results. Results that you can hear at our concerts in fact!
How do you and fellow keyboard player Neil Sutton divide the different keyboard parts to play in a song between you?
It often comes down to who is feeling more adventurous on the day. Traditionally I have been given basslines or riffs to play, as Neil is a classically trained pianist as well has having composed a lot of the parts himself. With the new material it is being more evenly broken up between us both (evenly meaning Neil does more than I do).
You have several hundred Human League concerts under your belt by now, so any favourite song to perform live?
Oooooooh.... *sharp intake of breath* Hmmmmmm....
My favourite song to play live is 'Seconds' for the atmosphere on the breakdown, it puts my hairs on end EVERY TIME. I don't know if anyone has put it on record as the 1st EVER trance breakdown? Either that or 'Open Your Heart', for which I have a great idea for an 'alternative' live treatment (keep your ears peeled!). Or 'Night People' because it is simply banging.
Most difficult one?
The most difficult one to play for me is 'Don't You Want Me'. It sounds simple but the timing of the bass line needs maximum concentration for it to sound good!
Any personal wishes that so far hasnít made it to the setlist?
The one song that I would LOVE to do, I rehearsed with the band at the very beginning and it sounded FANTASTIC. It's called 'The Path Of Least Resistance'. I continually rally for its inclusion in the set.
So who's winning the epic battle of Synth vs Guitar as you wrestle it out with Oakey during the live rendition of Empire State Human?
As much as I try and put him off with as much wobbly guitar noise and homoeroticism as I can muster, I'm afraid the moog is coming out on top at the moment. Once my dance routine is ready though he is GOING
DOWN I ASSURE YOU.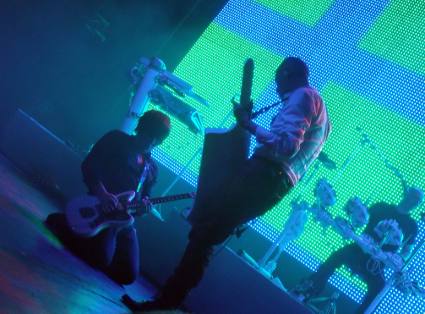 You've been round the world with the band to all kind of excotic places, so any favourite country, city or venue when touring?
I will live in San Francisco one day. I have such fond memories of our three nights at the Red Devil Lounge! I'm more in love with the place each time we visit. Maybe the hills remind me of Sheffield?
Berlin recently impressed me on my first trip there. I'll always look forward to a German excursion. I have a thing for venues like Rock City in Nottingham and Barrowlands in Glasgow, places with low ceilings and high temperatures, where you can smell the fear!
The band has some very loyal and dedicated fans that try to get to as many shows as possible on a tour. Have you had the same passion for a particular band? You know, following them around the country, sleeping on trainstations as you wait for the first train home?
There are some very lovely loyal Leaguers out there, it is very reassuring to see them sometimes. It can really get you through a difficult gig when you see people cheerleading you and the rest of the crowd through the hard bits.
There are a few bands in Sheffield who I simply cannot miss whenever they play, like Party Horse (please find them and listen - simply joyous) . I used to religiously go and support my good friends The Long Blondes and The Fat Truckers simply could not be missed.
I would possibly stalk 'Performance' (our most recent tour support) around the world. They were so amazing to watch and get to know and their album 'Red Brick Heart' is on constant play round my yard.
After almost 10 years of performing with the band you must have been kicking your heels to get into the studio and work on the tracks for the new album?
I had no expectations of being involved in the album making process, even after 10 years. It always seemed like a step beyond my station. Being asked to input on a new Human League album was thrilling and surreal in equal measures for me, a lovely recognition and a huge privilege.
It must have been exciting to follow the progress of the demos Philip and Robert were working on, so could you tell they were onto something special?
I honestly had no idea what they were up to or what was required from me until the days of the actual recordings so I wasn't privy to any of the demo process until I was asked to come up with a part on the day. I was very intrigued as to what a new THL record would turn out like.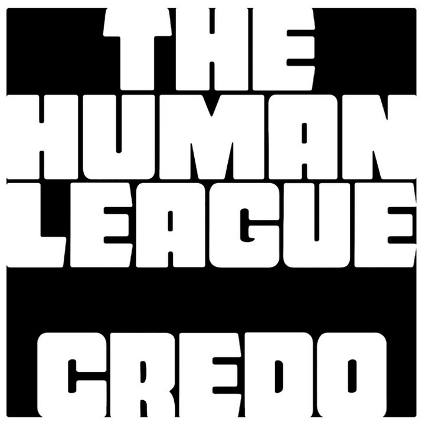 The album has been recorded in a very modern way by exchanging files over the internet, so were there no recording sessions the good ol' fashioned way with full band and producers in the studio at the same time?
I played my parts on the demos in front of Philip and Rob at an early stage down at THL HQ, then wandered down the road to do my album bits at the I Monster studio with Dean and Jarrod a year or so later. I was never emailed through the matrix to my knowledge!
So can you go into more details about which tracks from the album you worked on?
I worked on the song 'Breaking The Chains' and played a part on 'Never Let Me Go' that became part of Susan's vocal melody. Listening to those songs alongside the rest of the album is such a strange feeling. I feel like half fan and half family member.
I'm guessing you delivered the funky guitar riff on Breaking The Chains. Did you have some input in the creation of it?
I made it up on the fly as I listened to the demo track while Philip and Rob's eyes slowly glazed over. It was meant to be a nod towards the John Hughes soundtrack-esque vibe on the Ladyhawke album (that I love) and to be honest I think it was more about the tone of the guitar synth getting in there as it is such a weird noise.
It was more of an incidental part on the demo, rather than it's more prominent position in the finished version.
Never Let Me Go was a very catchy second single, so how did you contribute to the recording of it?
I came up with a melody over an instrumental track in this case. The next time I heard the song was post production and a section of my part had emerged as a vocal melody. I thought it was a clever writing technique on I Monster's part but it may have been written in before that stage as far as I know. I sound like Manuel from 'Faulty Towers' - "I know NO-THEENG"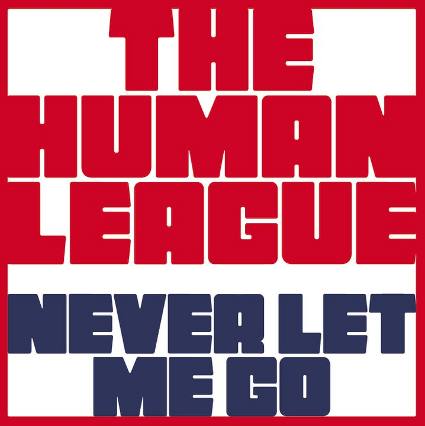 The 2 singles from the albums singles has been promoted by the best couple of Human League remix packages for decades, so any favourite remixes out of the whole bunch?
There have been some corkers, I love Cerrone anyway so I was excited to hear his Night People remix. The drums are quite something. I also really rate the Aeroplane remix of Never Let Me Go and would love to have a crack at a live version of it one day.
Any song from the album that was particularly fun to rehearse for the ongoing Credo Tour?
I love playing 'Egomaniac' (my joint favourite from Credo) at the moment and 'Sky' sounds huge. Night People is so much fun to play live, the 'gang vocal' really makes me feel part of the group in a strange way - I suppose it comes down to having the same belief in the statement myself and relating to the sentiment of the song.
The signing to Mark Jones cool Wall Of Sound label looks like a perfect match?
Mark is SO FUNNY and genuinely loves the music that he is putting out which endears me to him endlessly. Its lovely to see someone really embrace the weirdness of the band rather than someone sniffing an opportunity to cash in on a solely retrospective idea.
Playing the younger, more current/trendy concerts and festivals that Wall Of Sound can get us in to is upping our game as a live group too.
Out of the bands vast back catalogue, can you name your favourite Human League album, single and song?
I don't know if I'm allowed to say Credo for the album or not. To have been involved with it makes me burst with pride, but maybe that is too biased.
I'll say Dare. Playing the album as 'live' for our 2007 tour was such a joy, I felt totally indulged being able to play the (two) inspired bass parts on 'I Am The Law'. 'Do Or Die' was a scream to play live as well.
'Open Your Heart' is the single for me I think. Having had the pleasure of spending some time getting to know Jo Callis, I can't understand why he isn't lauded as the song writing heavyweight he obviously is.
If I was to pick an overall favourite song... errr..... ummm.... too hard. At the moment it is 'Into the Night' from Credo, which some of you might have heard.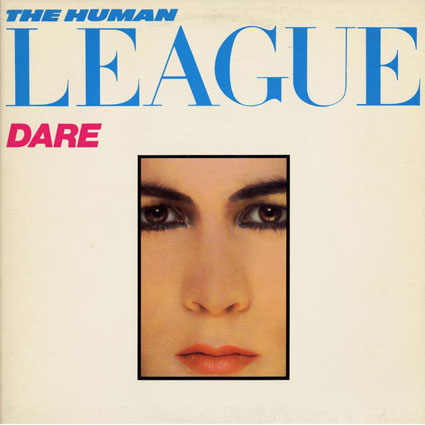 The Human League has a huge collection of vintage synths stacked away in the studio. Which ones are the most fun to fiddle with the knobs?
I'm not allowed to do that yet! I've only been with them for 10 years... I'm still working to earn that privilege.
You've worked with Philip Oakey collaborators like Kings Have Long Arms and Hiem as well as I Monster who produced the new Credo album. Can you tell us a bit more about the work you did with these artists?
Out of those folks I worked with Kings Have Long Arms first. I played guitar and keyboards for them from around 1999 on and off until 2006.
Is Adrian Flanagan (of Kings Have Long Arms) as mad as he appears to be? ;)
Adrian is a guy who you get or he GETS YOU! Ha! I saw him play first in 1998 and believed in his music from that point onwards and I'll always chip in to help out when I can. Please buy his (Chanteuse And The Crippled Claw) new single 'One Of Us'- its lovely.
I met Dean Honer and Jarrod Gosling (I Monster) around the time 'Never Odd Or even' came out and was asked to tour with their live band, on the tour that sadly never happened. I was extremely flattered to be asked back to play guitar on their next album 'A Dense Swarm Of Ancient Stars'.
They are great to work with, the sessions I did with them for Credo were rewarding and such fun. We got the old Roland guitar synth unit kicking out some great noises! I played guitar and synths for Hiem from 2001 to 2005 and appear on the mini album 'Half' .
You've also worked with bands like Double No No, The Lords Of Flatbush, The Cuckoo Clocks and People Soup?
Double No No is my 'baby'. I'm writing that stuff and playing it with some close friends, doing something really personal, it's not very 'League' but Philip has been to see us a few times and been so supportive.
People Soup is YET ANOTHER I Monster project that I had the pleasure of playing on - think Bow Wow Wow meets Moroder in 'Girl Group' form! The Lords and The Clocks were more like session jobs than a creative input, but fabulous fun nonetheless.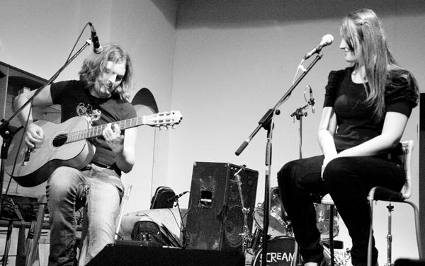 Your own music project Nickulele couldn't be further from The Human League as you describe it as "ukulele fun times"!?
I can't believe you found that!
It's not so much a solo project as a bit of fun to pass the time and space in my bedroom (of which I have little of either) or on the tour bus. I love ukuleles though. David Bowie wrote 'Lust For Life' in one go on a ukelele, so you never know what you might pluck out next.
Besides promoting and touring with the new Human League album through the year are there more collaborations in the pipeline with other artists?
Its going to be a very busy year with The Human League, which is great as the band and our amazing road crew are quite like a family to me. Beyond that I don't know, but I know one thing - I'm cheap, so try me x.
You can learn more about Nicks many projects by checking these links below;