First a little background. How did you become involved in the music business before you joined The Human League?

I lived in Deutschland between 1966 and 1970. When I returned to England I didn't understand the music I heard on British radio and television. Hendrix sounded like noise! But then I got tuned into T Rex and Bowie and Roxy Music (and, of course, Krafwerk).
I was messing around at boarding school, I don't remember learning to play guitar and piano, so must've just picked things up without realising. It was a very musical school -- its origins being the choir school for Peterborough Cathedral. There were pianos and guitars and other instruments and singing etc etc all around -- so it must've just rubbed off like any other aspect of learning and growing.

During my last year the school acquired a VCS3 (often known as the Synthi A), which a few of us jointly figured out how to program. Nobody taught us. A combination of artistic kids and scientific kids somehow began to jointly speak the language of voltage-control technology. I went to Sheffield as an undergraduate and got caught up in the punky new-wave scene. I acquired a guitar and amplifier, and began collecting foot pedals and echo devices.
Future acquaintance, Richard Branson, got into importing and promoting bands like Faust and Can and Neu and Tangerine Dream etc etc, through his Virgin label in the UK. I could connect with those musical roots, easily. So -- to find myself recording on the Virgin label with the HL was like a sort of arrival home! I played with a couple of like-minded friends from school who'd also drifted to Sheffield, armed with Teisco keyboard and another guitar and another whole bunch of effects devices and amplifiers.

There was a synthesiser built from circuit diagrams included free in a monthly electronics magazine. All the Vero-board-mounted components were housed in a couple of biscuit tins with holes drilled in the tops to allow for the controls. Nothing was done to disguise the Crawford's and Huntley & Palmers original look.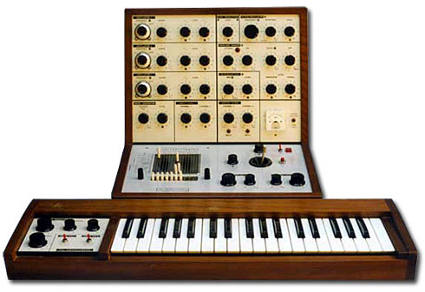 How much knowledge did you have of the band before joining them? Legend has it that you actually didn't like the music of the earlier incarnation of The Human League?

Not true. I was in the audience at their first ever gig -- at Psalter Lane art college in Sheffield. Being Boiled and Circus of Death are still amongst my favourite League pieces.

It has been well documented how you joined the band, but coming from a different musical background, what made a bass player join a band taking pride in being all synth?

I only ever played bass coz no-one else wanted to. And, since schooldays, there was no way I could afford to get a VCS3. Brian Eno and Pink Floyd used them. I assumed that one day I'd graduate and get a job and be able to buy one (or preferably two or three!)

Your first job was to go on tour in the UK and Germany in late 1980 as the band were contracted to do some shows they couldn't wiggle their way out of. Oakey has later said he wasn't proud of the tour, since you relied too much on tapes. What are your own memories of that tour?

I'd spent a large chunk of childhood living in northern Germany, close to the Dutch border. It was great to be back there, touring around and feeling homely about it. I've a romantic attachment to German winters.
I had to start/stop the tape machine between songs. We did a warm-up show in Doncaster where the audience applause drowned out the fade-outs and I stopped the machine too early. A couple of songs started with the tail-end of the previous songs!
Fortunately we were using a Revox which had a photo-electric cell system. Philip spent hours splicing clear leader tape between the tracks so the machine would stop automatically at the right places. From then on I was more focused on my keyboards, and the schnitzels and wurst.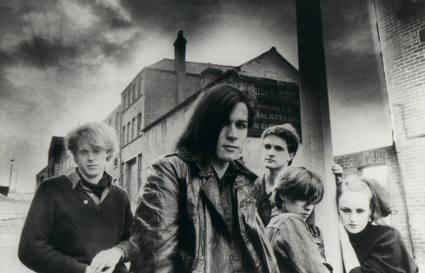 As for songwriting, you were off to a flying start as you co-wrote the single The Sound Of The Crowd with Oakey which went to number 12 in the UK Singles Charts. That must have been given you a boost?

Philip synthesised a drum rhythmn and I added the instrumental parts. I scribbled down some stream-of-conciousness words so that I could demonstrate the vocal parts to him without having to do the naff la-la-la-hum-hum-hum type of explanation. He went off and wrote a new chorus vocal, but surprisingly kept my verse lyrics!?
It was gratifying to hear that song on the radio. At the time there was no way of knowing whether-or-not the other pieces we were writing would amount to either less or more of that sort of success. I remember being in a record shop in Sheffield when a 15/16 year old lad in front of me at the counter asked to buy a copy of The Sound of the Crowd. My first encounter with a member of our record-buying public. Yeah . . . that was a strangely warm buzz.

You stroke up a very prolific song writing partnership with Oakey, and the next effort, Love Action (I Believe In Love) went top 3 in the UK Singles Charts. He has cited you for bringing more rhythm into the band, but how would you describe the song writing partnership with Oakey?

My instrumental, and Philips lyrics. He'd have some odd bits -- like cat sounds and eccentric bits of percussion. I'd write an instrumental piece around them, arranged with space for his baritone voice and structured as a song. I'd hum him a few possible tunes and he'd go away and write the vocal parts -- usually with his own melodies. I have a cassette tape of the demo we recorded in Sheffield, remarkably similar to the final version recorded with Martin.

By now Jo Callis had joined the band, and since Oakey in later interviews has been very complementary about his input, how big an impact did he have on the songwriting process?

Initially it was difficult to say. Our first outing with one of his songs (Open Your Heart), a Jo Callis instrumental with lyrics and vocal melody added by Philip, was less successful in chart terms, after Love Action (I Believe In Love). But working in the studio with him was an eye-opener in terms of chord progressions and song structures. I learned quite a few things from him -- and so did Philip.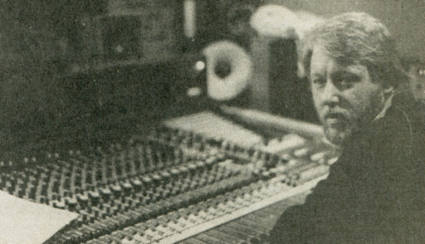 You went on to co-write Do Or Die for Dare! and the rest is history! Looking back, how do you view the recording of Dare, producer Martin Rushent's input, and the success that followed?

Do Or Die was an instrumental piece of mine (much improved by Martin Rushent's production) and vocals and lyrics written by Philip. I think the Dare! album is largely the product of Jo and Philip, with me playing second fiddle and Martin Rushent taking command of recording in terms of schedules and engineering. Adrian wrote some lyrics and brought some charming one-finger ideas to 'his' songs. That was the team.
The Things That Dreams Are Made Of was one of Adrian's one-finger ideas with Philip adding more one-finger ideas, and the lyrics are pure Adrian.
Get Carter, basic theme melody from the movie with Michael Caine. A solo performance from Philip, playing the tune on a Casio VL Tone.
I Am The Law, totally Philip, but with a lot of help from Martin Rushent.
Seconds, Adrian's lyrics, and Jo Callis getting the synths to grind!
Don't You Want Me, Adrian had a simple tune which Jo syncopated and then constructed the whole instrumental elements around it. Philip wrote the lyrics and vocal melodies.
The girls were either recorded seperately in Sheffield, or at Genetic studios during their time out from school work. I don't really remember them being around very much -- although I do remember treading water in the swimming pool with Joanne. She told me that she wanted to go university -- to study philosophy.
Everyone associates music within the context of their own lives at that moment in time. When I hear the Dare album I see the interior of Genetic Studio, Martin chain-smoking and my occasional walks around the surrounding countryside and frequent dips into the swimming pool. It was a hot summer.

The album was supported by a world tour with Dare Tour 1981/82 and since there has never been released any live material from that era, it has taken on an almost mythological status among fans. So what are your memories of that tour, musically and otherwise?

It was an adventure. It took us to many places that most of us had never visited before (notably Australia and Japan). The songs had too many parts for me and Jo to take from the studio to the stage. We hired a chap called Mike Douglas from Liverpool to be our third player -- bringing us to a total of six hands and thirty fingers.
Philip programmed a Linn drum computer in faithful reproduction of the studio parts -- and off we went with only four keyboard synths, a bass-guitar synth, the Linn and a bunch of vocal mikes. We hired a fraction of Pink Floyd's sound system from their Britannia Row company.
After a show in Toronto one of the Canadian newspaper reviewers criticised us for 'miming'. I took that as testament to how clean and tight we were as a band.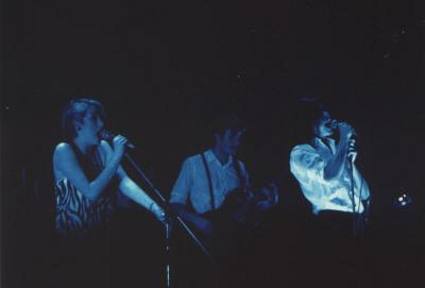 The follow up caused you problems and ended the relationship with Rushent. You did release Fascination! in 1983, where you contributed to some of the best songs in the catalogue with Mirror Man and I Love You Too Much. What was causing you problems, since you "only" had material for an EP?
There was clearly a conflict between Philip and Martin. I'm not able to offer an explation -- without diving into conjecture and splashing about. There was obviously a tension between them, with Philip using stubborness to wrest control at every juncture. It's not something I'm qualified to explain. Only Philip can answer that.
Jo was laying some parts in the studio one afternoon, which meant I had nothing much to do. So I went into the nearby town of Reading to buy toothpaste and disposable razors etc.
I got back to our hotel at Goring-on-Thames, just a couple of miles from the studio, and was surprised to find the other band members and our manager huddled in the bar. I was informed that we had split with Martin.
You then recorded Hysteria, co-writing 3 tracks. It didn't live up to expectations, even if it went Top 3 and spurned 3 Top 20 singles, which most bands would envy! How do you view the recording of the album that has gone down in League history as the most difficult to make?

Me and Jo were fired up with song ideas. (We'd actually done some writing on tour -- during sound-checks and huddling in our hotel rooms). But it had suddenly become difficult to get Philip to embrace our ideas in the same way as when we'd first started working together.
Since a lead singer is both the voice and principal character in a band, it's seems unreasonable to expect him/her to front music which they don't fully endorse. From then on Philip was sole lyricist and sole arbiter of every musical choice. He's not a quick decision maker -- slowed by all sorts of baggage! I can't explain any further.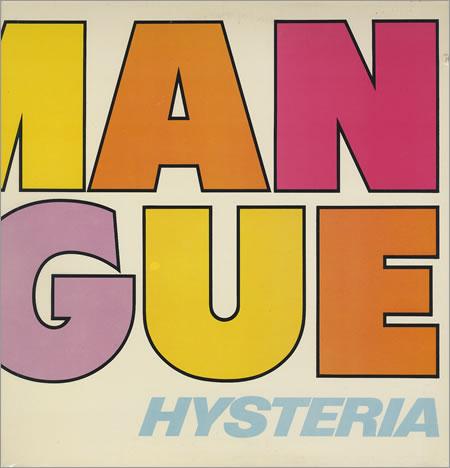 This time you didn't follow up the album release with a tour, how come?

I've absolutely no idea! Seriously . . . I either don't know, or just can't remember.
You did play the Ethiopia Benefit gig in December 1984 in Sheffield. Any
memories from that concert?
The review in Sounds of the Ethiopia benefit (see here) jogs a few memories. It was typical Human League bloody-mindedness to snub Geldof and do our own thing. I went along with it coz I was starved of performing at that time and welcomed the chance to rock it up a bit with 2 of my friends from the Comsat Angels (Stephen Fellowes & Andy Peake), easily recruited by myself.
I couldn't see any point in sending money to Africa, and I still can't. (I could write pages and pages on that subject.) But it was great fun to be blasting away in Sheffield, home turf for the girls and Steve Fellowes.

It was rumoured you played a new track called "Millions", my best guess is it ended up as "Money" on Crash?
I guess it was a work-in-progress which must've been ditched.
Judging by interviews, you had a new album ready in 1985, but the work you did with producer Colin Thurston was dumped. Can you elaborate on why?

I don't know why the recordings with Colin were binned. I have a cassette tape of the work-in-progress which I found a couple of years ago whilst clearing a basement. Sounds good to me . . . even though it's only monitor mixes. (!?)
Did the loss of Jo Callis after the Hysteria album have an impact on the recording of Crash?
Jo left in reality. He's a smart guy. I stayed on, clinging to unrealistic loyalty -- I guess.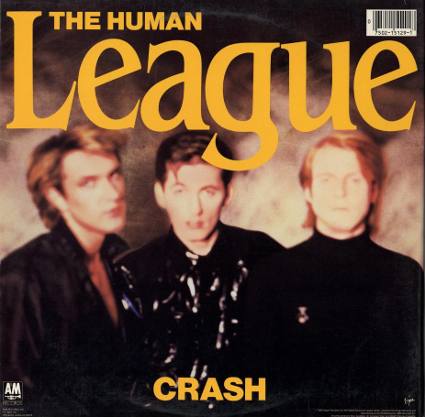 You then went to Minneapolis to record with Jam & Lewis. In Human League folklore the making of the album was the band being the puppets of Jam & Lewis and they produced and wrote the whole album. But the band provided 6 of the 10 tracks on the album, with you co-writing 4. So what was your impression of making the album?

It was a Jam and Lewis album.
Me and Adrian played a lot of table-tennis. Jimmy Jam played all the keyboard parts I'd written, although they allowed me to sing a few parts. They focused on the songs they'd written themselves, and on another song written by one of their pals. Minneapolis was under sub-zero temperatures, and I just wished we were back in Berkshire making a Human League album with Martin.

This time the album was supported by a tour that took you to the UK, America and Asia. And with a different set up, as the (in)famous drum machine was replaced by Jim Russell on synth drums. How did that tour go?

It was okay. Y'know . . . maybe slightly more fun than sitting at home doing nothing! The sense of novelty and adventure seemed to have gone. We all played very well, but it felt very perfunctory. I suddenly found myself doing a lot of shopping for clothes, as if each concert could be enlivened by sweating into another outfit.
Americans are large people, so it was easy to mix and match with women's clothing that fitted my tall frame. I stuck with European clothes on the male side, since the choices in America are too much plaid, jeans, baseball caps and sportswear. I don't know where the likes of Prince go shopping. So yeah . . . it was that sort of tour.
I found it strange to turn round on stage and NOT see Adrian's slide show -- something I'd hoped we could've developed in a new world of emerging technologies.

After the tour you seemed to sneak out the back door of The Human League, what happened?

As one-forth of the remaining partnership I found myself consistently out-voted by Susan, Joanne and Philip. The more I disagreed with decisions, the more I found myself being by-passed. My voice was definitely no longer a part of the crowd.
They went to Lanzarote whilst I went to the Seychelles, and on returning it was obvious that they had mapped out a whole load of stuff without any interest in my opinions. There could be no discussion. They just stared me down and talked over the top of me.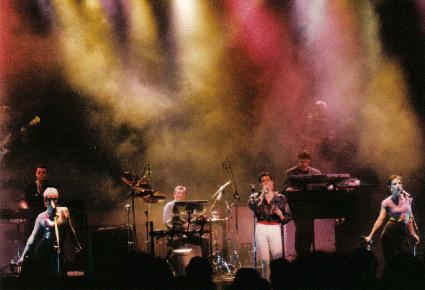 How do you look back on your time in the band and your contribution to the back catalogue?

Glad to have done it, although I think in many ways it set me back. But now that I've passed the 50 mark I reckon it was better to have a whole bunch of experiences at that youngish sort of age. My continuing happiness has probably been helped by it -- amongst a whole load of other things, of course. I can't be objective about my own contribution, except to say that I was a part of it.

Have you followed the bands career after you left and what did you think of the albums Romantic?, Octopus and Secrets that they've released since?

I liked Octopus -- apart from that dreadful ooh-la-la song about a man in my heart or whatever it's called (One Man In My Heart).
I found myself being driven around Sheffield by Philip in his new Range Rover at the time they were trying to finish Romantic. He played me a mix of the whole album done by William Orbit -- at full volume on his mega in-car stereo. I loved it. Didn't like the released version though.

Can you name your favourite Human League album, single and song from your period in the band?

If you mean in the context of the League then it's Love and Dancing, (Keep Feeling) Fascination and I Am The Law. Don't know why . . .
Since it's been so difficult to keep track of what you've been doing since you left the band, I was wondering if perhaps you made a career change and are doing something entirely different now in your working life?
I have no job/career. I invest and let the money do the work ;-)
I did find a project called Loot from 1990 and an album with Deep Down Crazy called A Swim In The Ocean from 1995?
'Swim in the Ocean' was an album I helped out with. It was Russell Dennett and his brother 'Huma', together with ace drummer Chris Broadhead and a lovely singer called Dan. I remember co-writing and co-producing, doing most of the programming and playing keyboards and bass.
The 'Loot' album was just a weird bit of fun, messing around with digital sampling before the advent of time-stretching.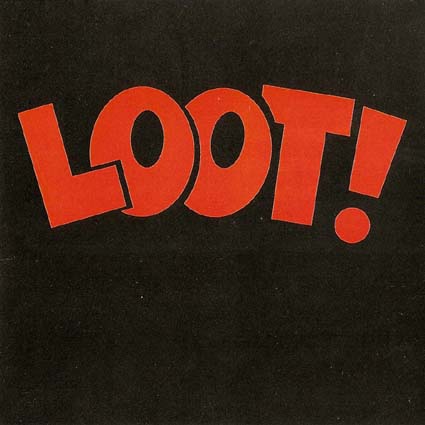 The Loot album sounds very nineties but also very experimental, even though I feel a track like Waiting could have been an underground club hit with it's catchy melodies and throbbing bassline. Is it Ian Burden thinking outside the box?
The album is mostly a bunch of songs written for the Human League which I didn't push too much -- or maybe were just rejected (?) It's along time ago -- so I'm not sure.
I was busy (with investments and all that sort of financial nonsense) but took the basic multi-sequences and messed with an Akai S900 sampler. Friends were invited to bring along isolated vocal sounds and join in with the musical adjustments.
There was no digital time-stretching (as there is these days) and all the samples were in different tempos and keys.
The only way to fit all the samples together was to either speed them up or slow them down, which meant a lot of fiddling with tempos and sliding between key signatures.
So there were some 'mickey mouse' sounding vocals which led me into grabbing a few samples of cartoon characters. Hence -- cartoon packaging, with silly little thieves running around carrying the stolen bags of 'vocals'.
For a band boasting 2 members with a combined 17 years in The Human League the "A Swim In The Ocean" album sounds surprisingly rocky! Was that intentional to break away from the League connection?
Deep Down Crazy is just me admiring some talented guys in Sheffield and offering to help with songwriting/programming/playing/producing. Once the album was recorded the guitarist moved to get rid of me. So thanks for that!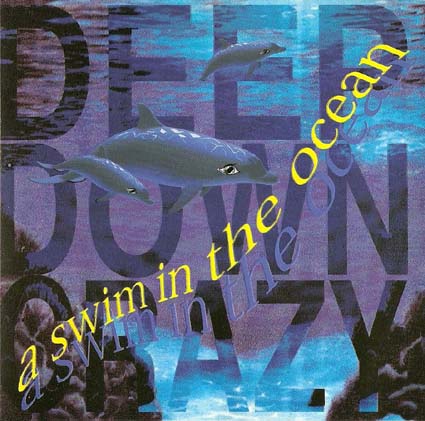 Any other projects or bands we should know about?
Some soundtracks and commercials -- but no other bands. A few session performances, and some mixing and/or arranging -- when I get asked.
What are you up to these days? You've done quite a lot of work with Aussie synth wizard John Von Ahlen on his projects The Tenth Stage (www.thetenthstage.com) and Parralox (www.parralox.com), so are you back in the music business full time?

No. I play the piano a lot, and occasionally plug my Telecaster into a Zoom and make a lot of noise.
John Von Ahlen called in to see me at a little cottage in Rutland which I was busily turning into a sort of studio/office/visitors accommodation thing. That was a couple of years ago. I did some stuff for him there (just a couple of bass lines), and will probably do some more.
In fact, I'm there now. I prefer the cottage in winter though -- cosy log fires etc.