First a little background. How did you become involved in the music business?
Well, I've been hearing electronic pop since I was 9 years old with W.Carlos, Jean Michel Jarre, Kraftwerk, Giorgio Moroder & Donna Summer disco and some prog artists.
What was your knowledge of the band's history before you started working on one of their tracks, would you label yourself a fan?
The first album I got from them was Dare, quite in the early 80´s and my first 12" was Being Boiled from Fast Records. I think I am a fan, but on the other side there are some Human League songs I don´t like.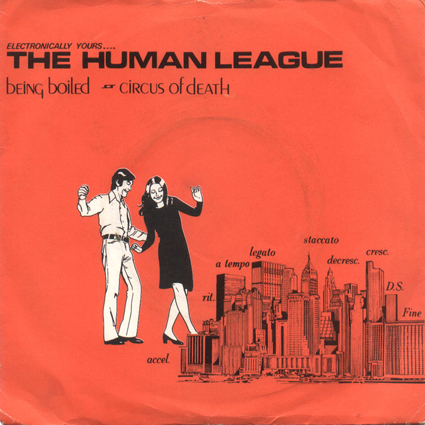 How did it come about that you were picked out to remix The Things That Dreams Are Made Of for Martin Rushents (at the time) recently re-established Genetic Recordings?
You know how it goes... You know people that knows people that knows somebody that knows that you are a fan of the band and of late 70´s and 80´s electronica & disco.
Then I got the voice files and some other stuff and voilá! But even after that the remix had still to be aproved by the label, band, producer. I got lucky and that was it.
You made the track into quite a disco stomper, including a great new bassline and added melodylines. How did you approach the job of remixing this track?
Well, the basic idea was that you cannot reinvent the weel, so I could never do it "better" than the original, so I thought about doing it differently danceble and a bit retro-futuristic.
I do not know how to produce House or Techno, but I looooveeee disco and also electro/electropop so that was my idea. Red 70´s feel, made to the dancefloors with todays pressure and a dash of Grey "minimal/idm" tunes. The added melodies came naturally following the musical scale of the song.
Did you make more mixes that didn't make it to the finale release? And if you did, what did they sound like the one that made it or did you try a different approach?
I almost finished a completely different one that goes more in the coldwave/Kraftwerkian brench. I did not finish it yet. When it's done I will send it to Hooj. If they like it, nice, if they don´t, nice too!
Favourite Human League album, single and song?
It is quite hard to choose. For sure one between "Reproduction" & "Dare". Favorite single is 1978´s Fast Records "Being Boiled", because it was my first Human League single.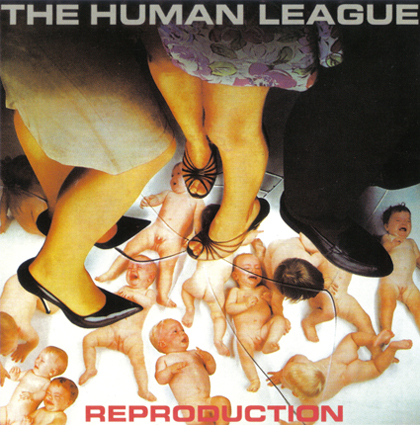 If you could pick any Human League song from their vast back catalogue, which one would you like the most to remix?
My favorite HL song is rrrrrr... The Black Hit Of Space;-)!
Seriously! Despite of the blippy / weird sound palette, it has this dada/nonsense graphical suggestion. It is the kind of thing that make my brain cells twist. I love
to try to rationalize things that are not "rationalizable". Like the time paradoxes from Star Trek or the strangeness of David Lynch´s films.
You're originate from Brazil, which isn't excactly known for electronic music, so how much airplay do The Human League get on the radio and television in your country?
Nowadays almost none. They got some airplay with some remixes about 4 years ago. But "Don´t You Want Me" and "(Keep Feeling) Fascination" are always played in 80´s parties.
Have you ever experienced The Human League live in concert? And if you have, when was it and what did you think of their live show?
Yes, they played here @ Nokia Trends. It was quite a surprise. The show was fantastic. I met some friends I've known since the 80´s with whom I share lots of "HL Moments" from the time when I started to work as Dj back in 1985.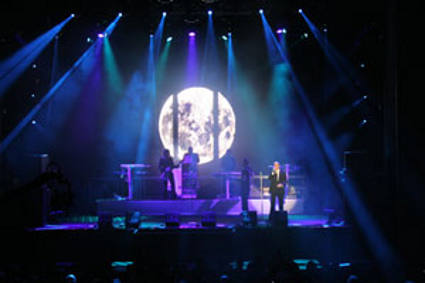 Besides being DJ and remixer, you're also a vital part of electropop outfit 3 Cold Men. The band have a very European sound, so how is the electronic music scene in Brazil ?
Well there are 2 sides of it...
From late 90´s to nowadays it had a HUGE development. We have lots of producers releasing things around the world like CSS, in the New Rave / Disco Punk direction, Gui Boratto, minimal / house / electronica, who also remixed Goldfrapp, Dj Rodolfo Wehbba, Techno / House / Minimal / Electronica, living & playing now in Europe. We now have electronic festivals with more than 120.000 people.
On the other hand I feel people are NOT quite interested in who are the composers or producers of this or that song. They are mostly interested in how famous are these or those Djs. Also the really popular kind of electronic music here is "trance/dance music".
In the alternative / modern clubs now, there is the "minimal plague", not that I dislike the style, but I don´t like when every place and Dj plays the same. There is also this "Nu wave / Nu Rave / Electrorock / Disco Punk" which I REALLY LIKE ´cause for me is a revival of the "Coldwave / New Romantic" era. We had / have also all sort of "brit" stuff like Drum & Bass, Breaks, Big Beat, etc.
In the [ I Can´t Stand IT ! ;-) ] "Dark/Industrial" side of the electronic music scene, there are the "EBM / Noise / Industro-Metal / songs to conquer Poland again" fans & producers, quite like what is going in this german "WGT" brench now, but not with the same "professional level", "Old School EBM / 242 like" fans and also some in the "80´s Darkwave [Clan Of Xymox / X-mal Deutchland.] bands.
3 Cold Men did a rather excellent cover of Visage's Fade To Grey on your 2004 self titled debut album. Is there a Human League track you could see yourself making a cover version of?
Thanks for the compliment on "Fade To Grey".
About the cover version, well... LOTZ OF !!!!! But I would start with "Darkness", "The Sound Of The Crowd" or "The Black Hit Of Space".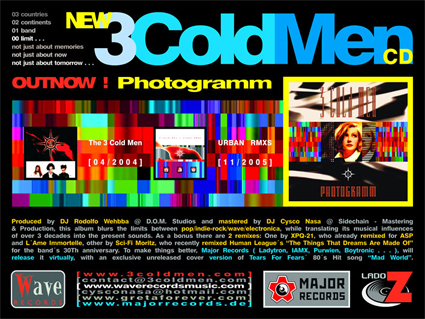 What are the future plans for Maurizio Bonito?
Lotz of. Keep on remixing bands and friends I like, finishing the next Individual Industry´s remix + album, foccusing more seriously on my Dj skills. Meaning: I am still not able to synch any kind of media but vinyl records. I must also set up a "myspace" profile and update the DJ link on "3 Cold Men" site.
You can buy Marurizio's mix of The Things That Dreams Are Made Of from:
Check out 3 Cold Men's website for more information: