Your own career path into the world of mastering is well documented on your website. But was it always in the cards that you would go the more technical route in the music industry or did you at some point have a dream of becoming a rock star?
In the mid 1960ís I used to mess around with the sounds of records at home. I had a hi-fi system and reel to reel tape recorder; I wired a switch to the erase head so I could double track in a basic way. I was always interested in the music and how it got into the grooves, so thought Iíd prefer a job in a studio.
I had a book called ĎDisc Recording and Reproductioní which I found really interesting. It had some photos of a disc cutting room and masses of technical stuff that I learnt, and still put into practice today.
I wrote to several studios listed in the telephone directory, and received a reply from IBC Studio saying they didnít have a vacancy in the studio but would I be interested in training as a Disc Cutting engineer. This suited me perfectly as I was always intrigued with the technical side of record groove.
After the interview with IBCís studio manager and chief engineer Mike Claydon, I asked to see the cutting room thinking I may never get this close again! He took me to the room and it was the same room shown in the book!
So I already had a vague idea of what the equipment did and asked loads more questions; I think my keenness and part knowledge got me the job - thank you Mike (sadly not with us anymore), you changed my life and gave me the job I was born for.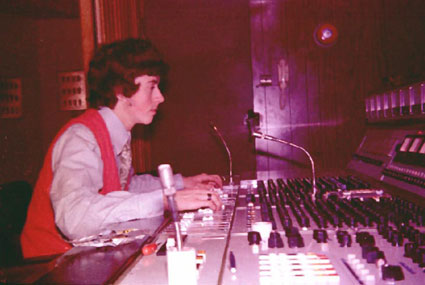 IBC was a perfect studio for me to learn my craft as they taught me properly in all aspects, so I know how to set up tape machines properly, I know the technical side of it instead of just being taught what button to push; plus I had a yearning for it before I even started.
I think thatís an important thing for any career; if itís not in you, do something else; find whatís inside and let it come out.
In the late 1970ís I worked for a Classical company called Nimbus; they weíre pioneers in many technical advances; had their own studio, cutting room and disc pressing plant set in 48 acres near Monmouth on the borders of Wales and England.
I did everything there, learning how to make the metal stampers, and press records. I learnt so much about what happens after the cut that has been invaluable to me, and helped me cut some fine music to black disc.
Which releases did you work on? You write in your bio that it was their early years, but I haven't been able to track down the exact releases anywhere?
Oooh that's a difficult one, I only worked with them over a relatively short period, plus some Heaven 17 stuff. I can't remember any specific titles for Human League; just remember them coming down from Sheffield several times and we cut various tracks which I think were singles or EP's.
It was after Being Boiled which Ray Staff cut at Trident, and before Dare which I think was mastered at the Townhouse. Maybe it was more Heaven 17, but if Phil was there, then I guess those ones would've been Human League.
Perhaps some readers will have the original pressings with my trademark ĎBilboí scratched in the run-out area.
I also remember Phil and Joanne coming in to master a single around 1988. I can't remember what it was called but I have a feeling it may have been another artist they were putting out on a new label they'd set up. It's all a long time ago now and the memory of those days is a bit vague sometimes.
I think I probably mastered more for Heaven 17, the first two or three albums, singles and some B.E.F. stuff but goodness knows what. There was an album and a single or two (I think) with other stars doing guest vocals and possibly on Virgin?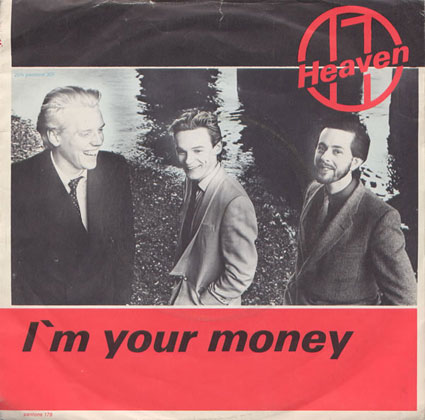 I did manage to find out on the excellent www.discogs.com site that you mastered the single version of The Sound Of The Crowd that was released in 1981?
The Discogs site is amazing, I didn't know it existed!
All those things I've mastered and many have been forgotten through time, and the amount of work I've done. On average, I probably master two albums or several singles a day, so 39 years of that comes to a huge amount, and I can't remember everything I've done.
To be honest I can't remember the Sound of the Crowd session at all, although having been reminded of it, I think I may have an original test acetate in my collection.
Martin Rushent cut a few things with me and this must've been the start of his relationship with Human League. He took them to giddy heights with Dare and set them off down the right path.
Another thing I've remembered is I also mastered some releases for the Rezillos. Jo Callis played with them and Human League and came in for the mastering sessions for both.
I remember he was interested in what went on, and strangely enough Eugene called me a few months ago about mastering a best of for them.
But I don't think they really have the money, and possibly not the legal right to reissue some of the tracks unless the ownership of the early Warners/Sire stuff has reverted to them which I doubt.
How did you work back then? The band would come round with tracks and tell you how they wanted it to sound? Would it then be a collaboration of getting there or more a case of you presenting the finished result?
They used to come down from Sheffield on the train, and we always had an afternoon session. I remember getting on well with them all and always pulled out the stops to get their tracks sounding as good as I could. My way of working is to do whatever I feel is right, and the producer or artist make their comments and we take it from there.
Iíve never been one for just sitting there waiting for their input. They arenít used to working in the mastering room and itís sound. They donít have the technical knowledge of what will sometimes work best, so itís down to me to get it how I think will work, plus I try to understand what they are trying to get with the track.
Although there are technical barriers that you need to be aware of, if I think something will sound better by pushing a piece of equipment into distortion, then Iíll do it.
Iíve been praised for doing some great cuts because I work that way. You also have to know when not to do something just because you can; There a few discs Iíve mastered where the mixes are Ďin my opinioní perfect, so Iíve cut them without any changes.
All those discs are very well known, and all had multi platinum vinyl sales, all I did was transfer a great mix to disc and retaining that great sound.
The band recorded at their own studio in Sheffield, recording their mixes on quarter inch analogue tape, often chopping lots of different mixes together to make the final mix.
Now this is fine if the mixes are the same level an sound, but theirs werenít, so I had to write lots of notes for level and sound changes to even everything up. I had a dual eq system on my mastering desk, so I could set up one level and sound pattern on one system, and a different one on the other.
When I cut the master lacquer, I could switch from one to the other as the edit passed the playback head on the tape machine. Some mixes had loads of edits, so I would be furiously changing the settings every few seconds until I reached the end of the song.
The adrenalin would be pumping on those sessions, because one mistake meant you had wasted a lacquer disc and had to start again; even worse, when you were cutting an album side and had this mayhem going on for 20 minutes!
I could have made a production master and cut from that, but I used to like working from the original if I could. I did have a second tape machine recording the output from the desk as I cut, so this was the eqíd production master that could be used for future copies if required.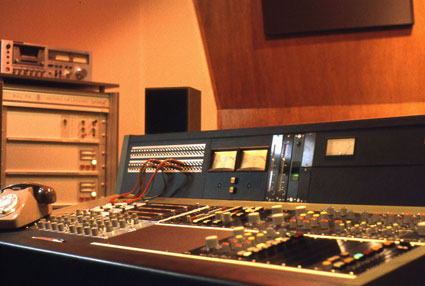 I guess any CDís that have been released would have used these tapes, as it would be almost impossible to recreate what I did at the time of the original cuts.
What was your knowledge of The Human Leagues back catalogue and history prior to working with them?
I donít think I knew of them at all before the first session. I donít know why they chose me either, but I must have cut something they liked and came to me that way.
Would you label yourself a fan or more a casual listener?
Yes, I am a fan of their music, they had a vision that worked and still sounds fresh today.They were talented people making great music with minimal equipment, which is often a bonus, because it makes you work harder to get what you want.
Itís all to easy these days with ProTools, computers, automation and endless
layers of tracks to work on. The simplicity of some recordings is what makes them great.
Look at some of those early jazz, blues androckíníroll recordings; the whole band playing together around one microphone; totally amazing performances and a superb sound too.
I mastered a lot of similar stuff to the Human League and Heaven 17 in the 80ís, and today I still get people come to me to master their music because they loved the sound of those records.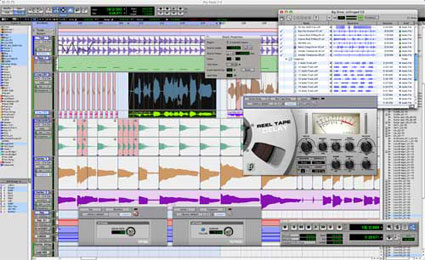 You have a very impressive CV, mastering releases from just about all the big names in the music business. Is there a difference in mastering an all electronic band like The Human League compared to a traditional rock band set up?
When I get something to master be it rock, jazz, indie, electronica or whatever, I donít think it should end up being a technically flat line of frequencies and conform to some text book configuration which is how some hi-fi magazines and hi-fi enthusiast think.
I need the track to do something to me inside, it needs to connect with me. I have a feeling of what I want from it and get it to do that with my mastering tools.
As I said earlier, if it sounds better with some distortion, or compressed to an inch of its life, then I will do that; more often than not, whatever I do works and my clients are 100% happy; I wouldnít be here now if I wasnít doing something right as they keep coming back.
Sometimes you stop working with an artist because they end up with a new label, producer or engineer who has their own favourite mastering engineer, some come back to you which is always great.
Sometimes they canít find you because youíve moved to a new location; however it would be boring if you always had the same clients, new ones with new styles keep me on my toes.
I still have one client Iíve mastered for since 1969 which Iím very proud of. Iím always on the look out for a new piece of equipment to help me get what I want, so mastering is a never ending expansion of knowledge, friendships and achievements.
Electronic sounds can cause their own individual problems, synthesized sounds can easily distort when cutting to disc or CD, you have to be very careful and listen carefully to the original mix and what you are creating with the mastering; itís easy to mess something up without realizing youíve done it, as your ears get used to what youíre listening to at the time.
Interesting you put the Curve sleeve in there. I was only looking at the CD the other day thinking how good it was and remembering the sessions. Toni and Dean used to come in for the mastering, she was lovely!
She's now (I believe) with Alan Molder who I've mastered various projects with in the early 90's, but not the last few years. The strange thing is, I'm just about to master an album for Charlotte Hatherley which Alan has engineered and produced, so things come around.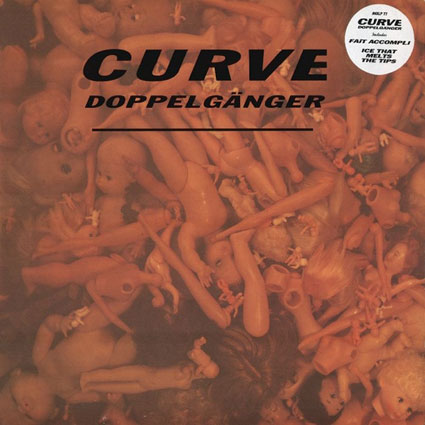 The evolution of the technology has made it easier to make music, but is it more fun?
Technology allows me to do some things a lot easier these days, I can be more creative, doing some fancy stuff that were impossible in a cutting room twenty years ago.
I have fun with some clients as they like me to mess around with crossfades, phasing and other things, surprising them with my input. So yes it is more fun in that respect, but itís not like the early days when the music business had money, things were fun in a different way back then.
Now itís run by accountants who donít give a monkeys about the music, just the profit. Thatís where itís all gone wrong.
Mp3 and downloads etc donít help either but they are the way of the future, it just needs doing correctly. Just people missed he record sleeve when CD came out, now weíre even losing the CD sleeve! The music industry needs to get back to its roots but in a modern way.
Any Human League singles or albums you would like to take a crack at remastering with todays technology?
Sometimes, things are best left as you originally did them, itís all down to that feeling I mentioned.
I hate it when remastered albums have some new mixes added to replace the originals, or the gaps between the tracks have changed; those things are important, and you often get things redone by someone who technically doing a good job, but doesnít understand what theyíre working on and what it should sound like.
On the other hand some remastered albums are a joy.
Out of the bands vast back catalogue, can you name your favourite Human League album, single and song?
Another difficult questionÖ
I see music in a different way to a regular listener, so like different tracks for different reasons. I love the early stuff and the more produced ĎDonít You Want Meí which is still fresh today. So no special track, just fond memories of working with the band(s)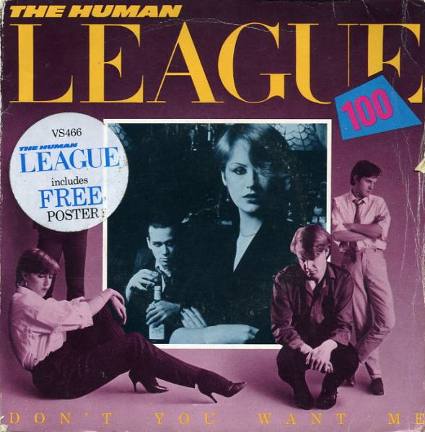 The band have evolved into an amazing live band through the last 10 years, so have you ever been to a Human League live show?
Being on the Isle of Skye, 650 miles from London and most acts only getting as far as Edinburgh or Glasgow, both Cities are a six hour drive from here which means a hotel and two days away. So, I rarely see anybody these days.
We do go down for a favourite client, catch up, buy them dinner and see them play, but Iím usually mastering ten hours a day, six days a week, so relaxing and giving my ears a rest is more the priority for me.
Iíve never seen Human League play live, but Iím sure they know how to handle an audience and produce a great performance; you never know I might catch them before weíre all in our wheelchairs.
Can you hear a song without ďworkingĒ or will your ears always be tuned into doing a better mastering job?
I think I always have a bit of a technical ear when listening for pleasure, any creative person will be assessing something with their ears or eyes, does it have the right form physically, to the eye, ear or touch.
Sometime Iím listening to a track and tell my wife Rose what I hear, so she understands my viewpoint (or listening point).
You seem like a very busy man, so what are the future plans for Denis Blackham?
Well itís September 2008 as I write this, Iím 56 and still busy. I think about the future, and retiring, but I donít really see myself circling a day in my diary saying I donít work anymore; I donít think I can do that.
I can get my pensions out in four years time, so maybe I wonít need to rely on the day job anymore. We like to see far away places around the world so maybe weíll take longer holidays.
When you work for yourself and care for your clients, you donít like to be away for too long, they have their release schedules and need to get things done.
Once they go somewhere else, itís difficult to get them back, so I try not to give them a reason to look elsewhere. I always tell my regulars well in advance of any periods Iíll be unavailable, so we all try to work around those dates.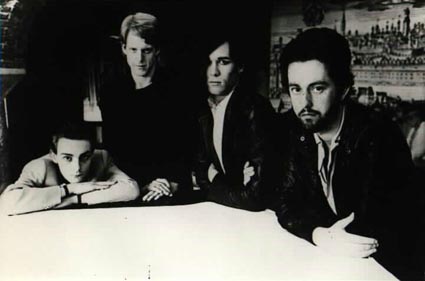 I have some great equipment and will keep my room working for whoever wants to use me; I know a guy in a similar situation, heís nearly seventy now and still working every day for his favourite clients. We both try to slow down, but if people like you, itís difficult to say no.
Obviously as one gets older, you appeal to different people, probably less young bands unless theyíre looking for someone who mastered their favourite songs of yesteryear, so I get older clients as I get older, weíre probably tuned into the same thing, so it works.
Music will be with me til I die and my ashes are scattered across the bay I look out onto from my mastering room. Iíll probably still be mastering the sound of the sea long after Iíve been forgotten.
And thatís another thing, all those great cuts I and other mastering engineers did before CD and CD re-issues. Theyíre all slowly get lost in time, with labels not crediting the original recording or mastering engineers.
Obviously I master new releases and occasionally remaster some of my old vinyl stuff, but many of those classic cuts of years gone by Iíve never remastered, so that original pain and torment of the original cut is lost forever, unless of course you have an original vinyl copy and still playing it.
Denis Blackham - Bilbo to his old vinyl friends
You can learn more about Denis and his projects at: