First a little background. How did you become involved in the music business if the first place? Was it always in the cards that you would work more behind the scenes or did the world miss out on a swaggering rockstar?
I enjoyed playing with bands including the Flowers which released couple of singles on our labels and supported quite a few big-name bands at the time including U2, the Beat, Simple Minds and at the Futurama Festival in 1980, Siouxse and the Banshees– the biggest gig I ever played which has just come out on YouTube – see :- (click here) The Flowers are first up after about a minute of the clowns. That's me with the bleached hair on the drums !
I also was a founding member of Delta 5 and wrote their best-known song – "Mind your own business" – but left before they signed to Rough Trade when I moved from Leeds back to Edinburgh in early 1979. However, as I got involved in the business, I found I was naturally talented at some aspects and got increasingly interested in it and in other industries like the music business which, in the late 70's and early 80's were being disrupted by independent start-up companies.
That's what got me interested in Biotech where the Pharmaceutical Industry was being challenged by new entrants such as Genentech and Amgen in California and Biogen in Boston and Edinburgh.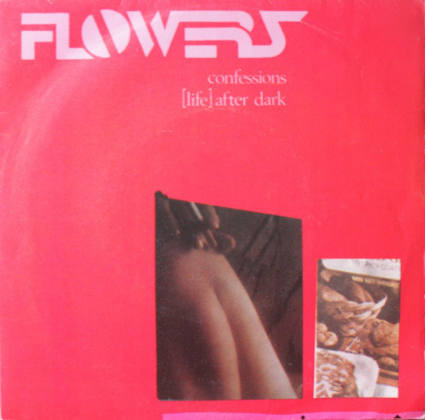 You were Bob Last's partner on Fast Product, so can you tell us a bit about what you set out to do with the label?
Bob and I had been best friends at my school which he joined at age 14 – we were both interested in cultural politics and I introduced Bob to the early albums of Frank Zappa and the Mothers which challenged the US status quo and consumerism. When punk came along in 1977, we recognized that it was another wave of challenge – initially straight from the mouths of kids from all backgrounds and we wanted to make sure that as many of them as possible had a voice.
We went beyond just releasing and distributing singles and in the series of Earcom compilations – put out tracks by bands as diverse as the Prats – a bunch of 7-year olds from a tough Edinburgh neighbourhood called Oxgangs on Earcom 1 – through to unreleased tracks by Joy Division on Earcom 2 and Krautpunk from DAF on Earcom 3.
Can you remember your initial thoughts the first time you heard the demo tape The Human League send to Fast Product as I'm sure their music would stand out from other demo tapes?
I remember it vividly. Fast used to get between 20-30 cassette demos a week and Bob and I and his partner Hilary, used to meet every Sunday afternoon with a six-pack and go through them. Most of these were "me-too" punk and got quickly rejected. Even before listening to the demo of Being Boiled, we knew that the League were something unique – the cassette came with fully developed artwork with much of the imagery that we subsequently used on the cover already in place and a one-page Philip K Dick like introductory cover story about the League.
The music spoke for itself – home-grown electronic music with intriguing lyrics from a band with clear ambitions to be a pop group. We couldn't resist the challenge and Bob upped our overdraft with the bank so we could press up a bigger than usual first batch. John Peel loved it and as I recall, we eventually sold ca. 80,000 copies which was a huge number for an indie label.
Were you aware of the bands earlier incarnation The Future with Marsh/Ware working Adi Newton?
I had no awareness at the time about the Future but subsequently enjoyed meeting Adi on visits to Sheffield.
First release on Fast Product was the Electronically Yours single in June 1978. In hindsight one of the most important releases of electronic music and especially Being Boiled is cited by bands and DJ's around the world as inspiration. How do you look back on the release? It went all the way to No 6 in the UK Singles charts when Virgin re-released it in 1982, which must have shown you that you did something right when releasing it almost 4 years earlier?
As above – there's no question it was a ground-breaker. It was a bonus to find that the League had also already worked out a very original and compelling live act with the added-dimension of Adrian's slide-show.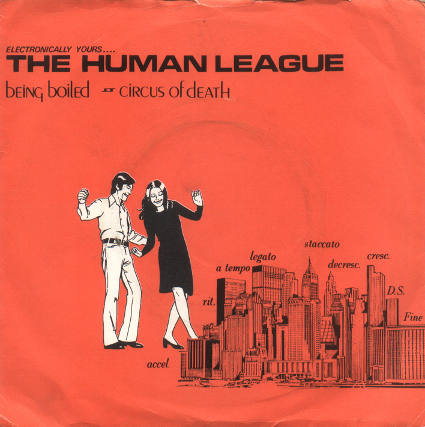 In the summer of 1978 the band also started playing concerts, including their ever gig first at Psalter Lane College as well as a cool performance on the John Peel Show. How did you experience their first live shows and especially the introduction of Philip Adrian Wrights famous slide show ?
Adrian's slides were already part of the show when I first saw the League live – however, we were able to fund Adrian scaling up from a couple of projectors and screens to I think 9 mounted in a major scaffolding frame by the time we tried out their new show for the first time at Huddersfield Poly in late 78. There really wasn't anything else like it at the time in Pop Music although some of the Andy Warhol Factory shows with the Velvets were a prototype. Audiences loved it.
Spring 1979 you also managed their first European tour, so how was life on the road with The Human League? They also supported Iggy Pop that spring, which must have been interesting?
Spring 1979 was their first UK tour – the European tour was the following year. The Iggy Pop gig was at the Lyceum on the Strand and I think was one of the last gigs – maybe the last gig - with the full original line-up. Phil was an Iggy fan and they shared similar range and some aspects of phrasing – close your eyes listening to Nightclubbing and you can imagine Phil singing it. The European tour took place quite a bit later - weeks after the split of the original line-up and with Ian, Susan and Joanne joining the band so it was both exciting and nerve-wracking.
The gigs were mainly in Germany and got better and better as the new line-up settled down. I had the privilege of playing live with the band twice when Ian fell ill in Hanover and Berlin. Berlin was still only accessible via a barbed-wire lined autobahn corridor and then staring into the guns of Russian tanks while your passport was removed for at least 10 minutes for inspection leaving you stranded in a mined no-mans land – very effective intimidation ! The gig there at the Kant Kino was incredible though – as was the feeling of relief on returning to W.Germany the following day – like going from black and white into colour.
The next release was The Dignity Of Labour 12" in June 1979 which was a very experimenting sound. Oakey has later in their career described that release as a mistake, since people regarded them a pop band after the Electronically Yours single and then they put something that leftfield out. How do you view that scenario?
Phil was impatient for the League to become a fully-fledged Pop Group – however, artists like Bowie, Lou Reed and Eno whom all of the League admired, had a track-record of issuing interesting side-projects which were less obviously commercial.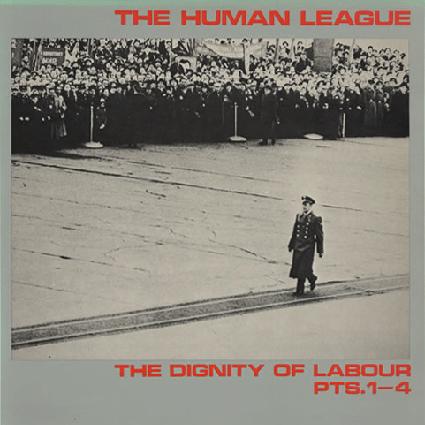 The Dignity Of Labour turned out to be the last Human League release on Fast Product. The major companies had starting sniffing around and the band signed to Virgin Records. And not long after Fast Product closed down as Dead Kennedys 7" "California Uber Alles" was released. Was it a case of you had taken The Human League and Fast Product as far as you could?
We recognised that the League were serious about being a major-league pop-group and needed the resources of a major label to achieve this. The timing of signing them to Virgin and closing down Fast Products was just a coincidence. Closing Fast was more to do with the waning of punk as a politically and socially challenging phenomenon and increasingly becoming a self-parody with the Oi bands etc. We next wanted to explore the opening up of mainstream Pop Music to more innovation and diversity and launched a new label called Pop:Aural as the vehicle for this.
Was it a natural progression of your relationship with the band that you kept managing them even after they moved to Virgin Records? And was it easy to manage them since both Oakey and Ware were famous for being strong-willed and opinionated?
It was a natural progression – however, although I remained friends with Phil, I wasn't personally as involved with the League once they signed to Virgin – Bob became their Personal Manager and I concentrated on building the new business within the Group – our regional independent wholesaling operation in Scotland, playing with Hilary's band the Flowers and working with Fire Engines as their sound-man and writing the String arrangements for Candyskin and playing the keyboards on Big Gold Dream.
First single release on Virgin was a bit odd as I Don't Depend On You weren't actually released as The Human League, but as The Men?
Phil always liked soul, funk and disco as well as mainstream rock and pop and relished the chance to work with great session musicians like the drummer – Simon Phillips - on a proper dance record. Much as Heaven 17 did in releasing "Groove Thing" as their first record post the split.
The partnership with Virgin was off to a decent start as the Reproduction album went into the Top 30 in October 1979. So any memories of witnessing the band record their first long player which they must have been very excited about?
As for above, I wasn't around at the Reproduction sessions.
The release of the Holiday '80 EP in May 1980 gave the band their first appearance on Top Of The Pops with the performance of Rock' N Roll. A sign of the buying public starting to notice the band?
Absolutely – Rock N Roll was their second encore at the gigs at the time and always went down a storm live. I personally thought the best cover they did though was "You've lost that loving feeling" which they kept in the main set. Great backing vocals from Martin – "Oooh Oh Ooh Ooh Ooh" – with Phil dropping to his knees at the appropriate point in the verse.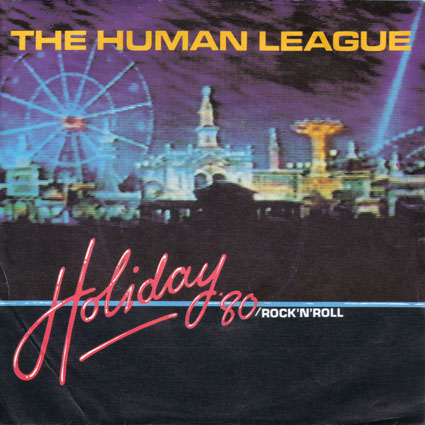 The EP was followed up with the Travelogue album a few weeks later which gave the band their highest chart position as it peaked at No 16. So any recollection of the band recording this album which producer Richard Manwaring describing it as "no compromise – it really represented all of the band at that particular moment."?
As for above, I wasn't around at the sessions – however, I remember talking to the band members at the time and getting the impression that several of the songs on Travelogue e.g. Black Hit of Space were very much "Martin's and Ian's" and less of a team effort than they had been before these sessions – maybe the first signs that the first incarnation of the band had taken things as far as they could at that point ?
The band split in two after the second album as Ware/Marsh left and founded Heaven 17, which off course turned out to be a blessing in disguise with two great electronic bands lighting up the charts. But how did you look at the break up? And did you sense that Oakey and Wright could carry on as they did with a more pop oriented style?
The key for both halves of the band in going forward was to bring in a new member with complementary skills – Heaven 17 needed a great singer and front-man whom they found in Glenn Gregory – the League needed a great pop-song writer who Bob found for them in Jo Callis from the Rezillos and Shake. Once both were in there was no stopping either of them !
The band was now in short in numbers, so what did you think when you heard that Oakey went clubbing to scout a couple of girls to dance on the tour in late 1980?
The Band had signed up for the European tour that I managed for them as per above – I thought it was a smart but risky move under the circumstances – however, the girls rose to the challenge and the risk paid off.
You stopped working directly with the band in 1980 to manage other parts of Bob Lasts projects, but did you pop into the studio to hear what they were up to as they recorded Dare with Martin Rushent? I'm guessing it would have been exciting to witness the progress of that album so could you sense they were on the brink of striking gold?
Yet again – I wasn't around at the sessions – however, the excitement from the band and Bob was palpable. Jo Callis was still Edinburgh based so he gave us regular reports and was clearly loving the new challenge.
Dare was released in October 1981 and gave the band world domination for a few months. Even if you weren't directly involved anymore, it must have been both exciting and rewarding to follow closely how this classic album conquered the charts and the band you had managed since the early beginning all of a sudden became superstars?
Very exciting and rewarding – Phil had achieved everything that he'd been aiming for with the League since mailing us the carefully prepared demo of Being Boiled in 3.above - I was delighted for him.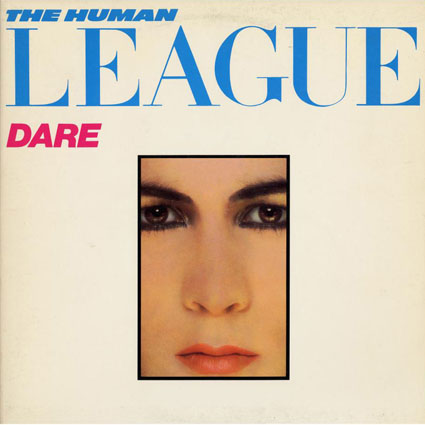 Dare was supported by a very successful tour in 1981/82, which has almost mythological status among fans since nothing has ever officially been released from it and very few people are online to give details about it. So did you attend the tour and if you did, what did you think of it?
I was at the Edinburgh gig of that tour and remember it as musically very professional and tight. Only negative was I didn't think that they had quite yet optimised the new incarnation of Adrian's visuals.
You left the music business all together in 1982, what was the reason behind that bold decision?
I have always been and remain passionate about music and got increasingly uncomfortable in having to promote music I didn't really rate or like for the wholesale operation simply to "pay the bills". Then fate took a hand and some of the regulars at the promotional club nights that we ran in Edinburgh at which I DJ'd turned out to be Biotechnology Ph.D students at the University. They fed my interest in applying my entrepreneurial skills in that world and encouraged me to make a bold move and follow my dreams elsewhere.
The band has worked themselves up to become quite the live band, so have you seen them live since you left back in 1982?
I moved back to Edinburgh in 1998 after living in the US and have seen the League several times when they've come through town and joined Phil and the girls for drinks afterwards. I also still see Jo Callis occasionally at other gigs here and it's always a pleasure to catch up.
Have you followed their career since you left the music business as they've released albums through the last 4 decades with especially last album Credo in 2011 being a triumphant return to form after almost 10 years of no new material form the band.? Did you think back in 1978 that they could still be active 40 years later!?
I'm just pleased for them that they continue to be recognised as something special – Phil still looks great too !
Out of the bands vast back catalogue can you name your favourite Human League song?
Favourite song of the original band is "Black Hit of Space" in part because I introduced both the League and the Gang of 4 to George Clinton and Funkadelic/Parliament – Martin particularly loved "Rump Of Steel Skin" from Motor Booty Affair – a link you can hear when you listen to both side by side. Favourite song of the League post-split is Human – just a great song beautifully produced by Jimmy Jam and Terry Lewis at their peak.
You played the odd drums for Delta 5 and worked as a sound man for the Mekons, which tells me you must have some musical talent. So have you ever made music for yourself or as a band?
My pop/rock/punk contributions are pretty much covered above – however, I actually studied music at York University and used to write weird and wonderful avant-garde classical music and play pretty decent jazz keyboards. Whilst at Uni, I wrote a piece for bass-guitar and Orchestra called "Tort" hoping to interest Bootsy Collins but never got performed ! A few years ago, I rearranged this for Ornette Coleman's electric bass player Jamaaladeen Tacuma – who performed it at the Salford Sonic Fusion Festival as captured on YouTube at :-
https://www.youtube.com/watch?v=QWpaOGAPbZY
As you left the music business you never looked back as you've made yourself quite a name in the field of biotech. But do you ever get the itch to get back working with music which in all aspects has changed beyond recognition compared to when you were part of it?
Every few years I get the urge to produce or promote a musical event and the next one is brewing – a performance of Morton Feldman's legendary String Quartet #2 which lasts nearly 6-hours and for which I've obtained permission from his estate to "narrowcast" out of every major University building in Edinburgh as an "ambient gift" to my home-town – coming in either Spring 2019 or 2020 – watch this space and listen if you're interested at :-
https://www.youtube.com/watch?v=QPMUHVza-KA